Houses aren't cheap in NZ (or anywhere else – thanks boomers ;) . We have been pretty happy renting, but, with a 14 month old and our lease finishing we really wanted to get our own place. We had been looking for a long time, always getting outbid; sometimes by a lot, sometimes by a little.
Buying a house in Christchurch is further complicated by the fact that we had that massive earthquake, and then some houses were repaired properly, and some houses weren't. Maaike and I are both pretty risk-adverse (esp when it comes to houses), so, we were hoping to buy a house which was build after the earthquakes. Of course, that massively limits your options (and also means that there is decent competition, as we're not the only people who think like that).
Anyway, finally found a place not too far from where we were living. It's modern (soulless ;) and ours. And it'll be totally fine for the next 5ish years. It has a nice flat fenced garden section so Anna can run around and generally not get mown down too easily by a car. Its close to parks & the hills, it's opposite a bakery (dangerous) and a dairy (small shop, for some unknown reason they're called dairies in NZ).
We hired movers to help us move. Best $500 we've ever spent. Will absolutely use a moving company next time. Unbelievably efficient and strong!! Yes, very happy.
Shortly after moving in, we had two friends Alex and Clare come by for dinner. We met them on our trip to Antarctica and dropped into them in london so it was very nice to have them over to our patch in NZ.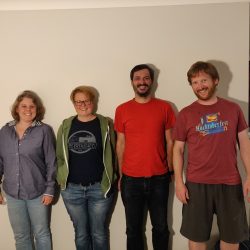 So, happy to be in our place, looking forward to unpacking and making it our own place.