I must mention the food on the trip.
There was a lot of it, and it was uniformly excellent.
Every single morning I had a cooked breakfast, followed by pancakes, bacon & maple syrup. It was delicious and decadent, and I miss it terribly.
Lunch was also buffet, but changed around a lot (often my favourite meal of the day really). Unfortunately I didn't take any decent pictures.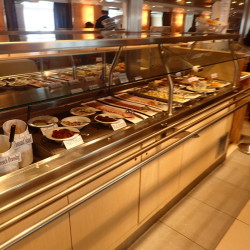 And then dinner, the wine was included and unlimited (both wonderful and dangerous). The best thing though was getting to spend time with the other passengers on board, reminded me of commons back in TCD days, good times.
---
Bridge. Two of the passengers on board were looking for a 3rd and 4th to play bridge. I stepped up, and another passenger did too – perfect. We just played a few times, but I did enjoy it (and realised just how rusty I'd become). I do miss that game. One of the hands my opponents bid (and made) 7NT.. I was most impressed.
---
Finally, I setup the raspberry pi on our porthole..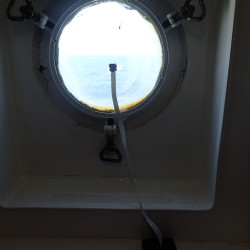 It took pictures every day, every 20 seconds… which I then edited down into one video.. it's a little bumpy in places, but still… good times!