It was a funny time Christmas on board. Anyone doing this trip (especially solo) had to be aware that they were skipping Christmas with family, or not Christian / religious etc. The staff planned competitions (decorate your door, poetry and songs), but there were also options for those who wished to opt-out. So it was well done, as everything was well done on the trip!
Unfortunately forgot to take a picture of our own door?!?! ah well, we didn't win anyway ;) the guy (George Curran) who did the really excellent portraits won… here's one he did of me. I quite like it :)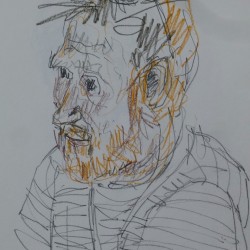 I did enter the poem/song competition, and, whilst a finalist, the best definitely won (rudolf the red nose reindeer, but all about the crew etc.)
Twas the night before Christmas,
And all through the hull,
Not a creature was stirring,
Not even a gull,

The adults were nestled all snug in their beds,
while visions of fur seals ran through their heads,
and away on the deck I heard such a clatter,
I ran to the porthole to see what was the matter

The moonlight glistened on the crests of the waves,
and cast a strange light 'oer penguins watery graves
When all at once I thought I heard hoofprints,
Was it reindeer I said?
Surely not, they're all dead*.
The reindeer being dead refers to South Georgia, where reindeer had been introduced (for meat), and recently eradicated by (NZ) helicopter pilots who shot the lot.
Dinner was fantastic as ever, turkey, ham, more brussel sprouts than could shake a stick at.. honestly, I think I gained a good 5-10 kg on this trip! (more to come on food later). Pictured below is Cat and Mel – mother and daughter, of Welsh extraction and great fun. They'd actually done the penultimate trip to ours, but enjoyed it so much that they decided to stay on for South Georgia!! Really great fun to be around. We did make other friends on board, hard not to, but unfortunately didn't take many pictures. Pictured with me is Colin, a brother of one of the staff (Adrian, the ornithologist in residence), also great fun. I do wish I'd taken pictures of Alex and Clare two brits on the trip, but was too interested in chatting than taking pics. Hey ho, hopefully catch up with them again in London sometime.
No comments yet.. click here to add the first one.