Please note, not all of these pictures were taken by me. There were a lot of really excellent photographers on the trip, and some of them very kindly shared their best photos. Where possible I have attributed the picture taker, if it wasn't me or Maaike.
"Gold Harbour offers a beautiful vista, with the beach backed by an amphitheatre of hanging glaciers, vertical cliffs, and the snow-covered peaks of Mt. Paterson. With 25,000 breeding pairs of king penguins, this site is home to an abundance of wildlife, including both seabirds and seals." (description from our trip handbook.. I've been cheating and using excerpts ;) )
Stunning place Gold Harbour, hanging glacier just falling off into the ocean constantly.
It's not the clearest, but you can also see a leopard seal munching the remains of a king penguin there. The skua?! was annoying the leopard seal too.. lucky he didn't get munched also!
Then time for lunch, while we moved to Cooper Bay
"Cooper Bay is home to South Georgia's largest chinstrap penguin colony, and also offers nesting ground for gentoo, macaroni and king penguins. The landscape has been sculpted from rock and ice over the last 5,500 years of glacial retreat, and is now a relative oasis of greenery in comparison to with the Antarctic-like scenery of nearby Cape Disappointment."
Finally we cruised through Drygalski Fjord before leaving South Georgia. It was one of the few times we didn't have perfect weather, so we couldn't really see the sides of the fjord. We did see the massive glacier as it retreated up (and in so doing creating) the fjord.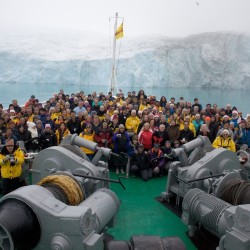 Certainly South Georgia was a highlight of the trip, a wonderful place to experience. The wildlife abundant, the sights majestic, a wild place. Hearing the stories of the whalers, glimpsing into their hard and bloody existence, yip, quite the trip, and not even in Antarctica yet :)