Please note, not all of these pictures were taken by me. There were a lot of really excellent photographers on the trip, and some of them very kindly shared their best photos. Where possible I have attributed the picture taker, if it wasn't me or Maaike.
First stop was the Falklands, starting with West Point and Saunders Islands.  The highlights of which were the Black Browed Albatross and magellanic penguins respectively. I'm not sure if it was a designed move or not, but, at most landings there were different options (long walk, short walk, cruising around in a zodiac etc.).  Anyway, at our first landing we had the long walk (chargers) option, and quite a lot of people signed up for it.  The walk was lead by Yvonne, a strong kiwi from Te Anau, and we certainly did charge up the hill… a good thing as it meant for subsequent trips people thought twice before signing up for the longer walks.
Anyway, lovely views, definitely liked the caracara on the top of the hill, and the morning tea that the people of West Point put on was amazing!
Then overnight the boat was moved to Stanley, and we spent a day wandering around, getting a feel for the place, sending some postcards, etc.  Now, that evening we were supposed to head to South Georgia, but, unfortunately the ship had to have a "stabiliser fin" fixed. I suspect it had been damaged by the iceberg from before, but I have no clue really. Now, unfortunately, while it should have been fixed while we were in Stanley, the airforce were using the airstrip, and so the specially chartered flight for the engineers couldn't land.  That meant we had to stay a second night in Stanley.  It was interesting the passengers responses to this, quite a lot of people were upset, however, these things happen and there was bugger all the staff could have done about it. Take it up with management if you have to take it up with anyone.
Anyway, the unexpected stay gave us time to do a couple of historical tours around.  It was interesting to see the history of the 1982 invasion (liberation ?!?! ;) by Argentina. They're still doing landmine clearing here.  Actually that was interesting – Metta, one of the expedition staff knows my cousin Thomas Nash from the cluster munitions coalition days, small world.  Here's a picture (from later on) of Metta and I (deception island, but I leap ahead).  She gave a great lecture on the still existent landmines in the Falklands, obligations under the treaties etc.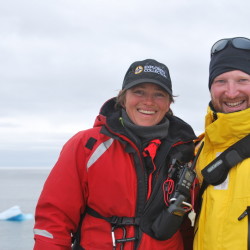 Stanley definitely was aggressively "British" as you walked around, so many tributes to the war, to Margaret Thatcher, mini coopers and Land Rovers *eveywhere*. They did have a referendum to see whether the people wanted independence or not, and it was a 80%+ turnout, and 98% voted for it.. or something like that. Quite understandable, it must have been incredibly shocking to have a days warning of an invasion… horrible. That said, I feel Argentina has at least a small point in their claim to the Islands.  The British came along and kicked the indigenous off the island, so the whole idea of self determination seems moot if you've been planted there in the first place. Hey ho.
Comments (4)