Please note, not all of these pictures were taken by me. There were a lot of really excellent photographers on the trip, and some of them very kindly shared their best photos. Where possible I have attributed the picture taker, if it wasn't me or Maaike.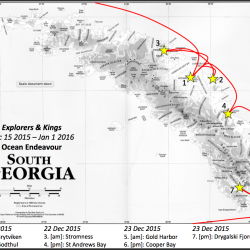 2 days cruising to South Georgia. 2 days of very calm waters – this was to be a hallmark of our trip – practically flat calm (relatively speaking) everywhere we went.
We passed by Shag Rocks on the way, an isolated set of six prominent, jagged peaked islands which are approximately 150 million years old. They're home to, thousands of blue- eyed shags along with various other sea bird species. On some trips they don't even bother as the visibility etc. just isn't good enough.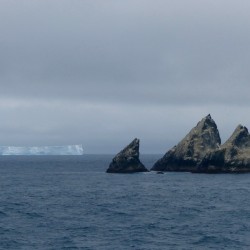 Then onwards to South Georgia. Along the way our days were filled with lectures, and a mandatory briefing on cleaning & sterilising our gear. You have to ensure (as far as possible) that all contaminants are removed before arrival on shore. This also means between sites even on the same island on the same day. Them's the rules. We also took on an observer from the South Georgia Government (Simon – great guy) who was observing the practices on board.
First stop – Grytviken. It lies within King Edward Cove, a sheltered harbour tucked along the western shore of Cumberland East Bay. Originally established as a whaling station in 1904, Grytviken is currently home to South Georgia's Government Officers, along with British Antarctic Survey (BAS) personnel who manage the museum, gift shop & post office. It's also where Ernest Shackleton is buried. One of the staff members was Jonathan Shackleton, a cousin of Ernest Shackletons.. he gave lots of talks and family history along the way, including words by the grave. If you haven't read any histories of the Shackleton trip, I suggest picking one up on The Endurance trip, heck of a story.
The church was quite the institution, creating a sense of community. There was a library there, and most meetings / performances etc. would all be held there.
There was also an excellent little museum (and staff who gave a run down on the workings of the whaling station). The boat here is a replica of the one Tom Creen used to sail Shackleton & Co across the seas from Elephant Island to South Georgia. Also a good place to send postcards.
The scale of the slaughter in these places was immense. Rivers of blood, the smell must have been insane. Want to know what one of the biggest selling items in the on-site shop was?! …. cologne. Not because the men wanted to smell nice for eachother, but because alcohol was banned and they could get a little bit out of the cologne. Good times.
In the afternoon we cruised around to Godthul. Godthul is situated 9km east of Cumberland Bay on the eastern shores of Barff Peninsula. There was a hiking option, which Maaike and I joined, so had a very nice hike across South Georgia to Godthul.
We were encouraged to walk single file where possible, I think to minimise the impact on the moss (grows very very slowly). I thought you'd be better off spreading out rather than really killing one area, but anyway. You can still see the tracks that the reindeer (all exterminated now) made, and those were from years ago. In fact, South Georgia is a pest-eradication exemplar. They've nuked the reindeer, and now have (using NZ heli pilots) dropped rat bait everywhere and they think that they have killed off those too.. time will tell.
Anyway, great intro to South Georgia..