What a nuts place this was – Point Wild on Elephant Island. Here it was that 28 men from the Endurance Expedition landed, and 22 stayed for 4 months while Shackleton et al went off by boat to South Georgia for rescue.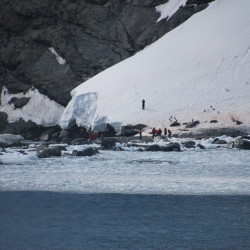 The passengers didn't get to land unfortunately, above you can see a few of the expedition staff on land, at Point Wild. It doesn't look like much, and it really isn't. A very small inhospitable spit of land. The Endurance crew (Wild?! and a couple of others) had rowed 7km along shore to find this spot, it was the best they could do, and it was here that they made camp. What a brutal place to be for 4 months.
There's a monument to the Chilean captain (Luis Pardo Villalón) who was the captain who rescued them off the Island.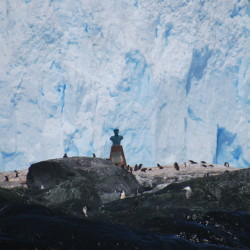 It's funny, we had the calmest seas getting there, and even then we were unable to land (ice on the landing and a bit of a swell). Most trips they can't even see remotely as much as we did, let alone have the opportunity to do a zodiac cruise around the place.
And then there was this guy, a sleeping juvenile humpback whale. Every 6 mins or so it would come to the surface, have a breath, and sink back down again.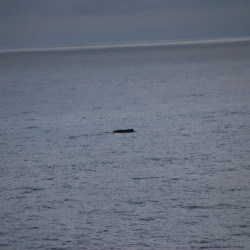 Then in the afternoon we went exploring around more of Elephant Island.
The whale above might be a Southern Right, I'm not quite sure, maybe a sei whale. Definitely a whale anyway ;)