London. It's a great town, so much going on, a very lively place. There was a little bit of apprehension in the air around Brexit. Maybe not that much will change, but it's likely some value will be lost in the housing market, and likely that some jobs will move to mainland Europe. Still, we'll see.
Maaike and I ended up spending a week in London. We did quite a lot of walking. It's funny, usually I take the tube in London, but walking around gives such a different perspective on the place. I recommend it!
We walked to the Tate modern from Hackney. Nice walk through parks, with the buildings becoming ever grander. Decent graffiti work on Brick Lane. After being in Colombia we knew some artists and had an idea of what to look out for. I was particularly happy when I saw the "City of Ronzo" plaque.
We passed the Tower of London. I had left my hat in The Netherlands, as A) I didn't think they got sun in the UK, and B) I thought I'd have my bike helmet on most of the time. But then sun did come out, so up went the hood on my rain jacket. I melt when exposed too long to the sun ;)
We met up with my friend Declan. He invited us to come sailing, and would totally have loved to, but timing just was a little too tight this trip. He and his partner Heather may come biking with us in Wales, which would be most excellent.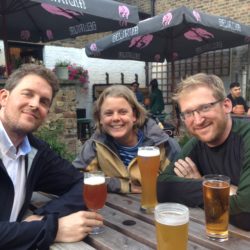 Also met up with two friends off the boat to Antarctica – Clare & Alex. Alex, whom I'm forever indebted to for pointing me to the OSMAnd+ App for Open Street Maps on Android. It's what we're using to navigate on the bike, and every single other country we've been in! I brought the scones & clotted cream, and Clare cooked up an Iranian cuisine feast. It was lovely to see them again, Clare showed us around her allotment (city vegetable garden). You can get them for a max of 10 years, and you have to look after them or you lose your rights. Clare also took us for a bimble around central London, to Buckhingam Palace and up the mall to Downing street. We also went to comedy in the Leicester Square theatre – I had tears of laughter, brilliant.
We had a quick catch up with more cousins in Chelsea, and took the "Boris Bikes" back to Hackney. It was my first time on a city bike scheme, but it worked very well I must say.
Finally a walk across to Highgate to see my Uncle Anthony & family. A really lovely evening there. Anthony cooked mackerel with gooseberry sauce! Apparently a classic English dish. I've certainly never had it before, but damn it was tasty! I think we might need to compile a recipe book after this trip – we've had some extremely good dishes!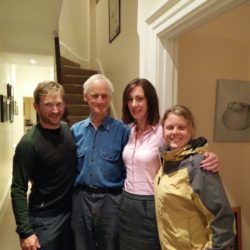 Oh – App tip from my brother Chris. "Moovit". It's really amazing! It just seems to know about timetabling and location information for all public transport! At least, it has so far (Dublin, London and Oxford). It was super handy getting back across London at night, knowing which busses to get, how long to take them for etc. Brilliant.