It always takes me a while after being back from abroad to get back into the swing of things, and this time probably more than most. I've definitely not been as sociable as normal, but, finally, feeling back up to 100%.
It is good being back in ChCh. I love where we live – close to the hills. From our house we can turn right and immediately be straight up into the hills. There's a nice little 8ish k loop which takes us up to this view (lyttelton crater) Big old volcano in its time, thankfully quite extinct. That said, maybe the mountain is getting taller, it can't be that I'm getting less fit ;)
My old friend Warrick is back in town and lives nice and close. Great to be able to go up to his place for a nice lunch in the sun :)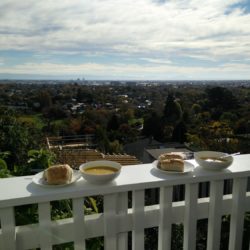 No comments yet.. click here to add the first one.