Pics (and a gripping tale of death dicing, dragons, gold and princesses) to come from the rafting trip soon I hope… but in the meantime.. here's a pic from last night of me getting a certificate for placing third (ooooh) in the Spring Croquet Tournament here in Christchurch..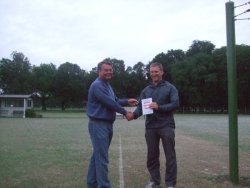 The guy who's hand I am shaking is the current world champion – which I think it slightly cool. It has been a real success these evening tournaments run by a very fun (and witty) Scotsman by the name of Magnus. He organised the whole thing – and it now sees 25 odd people playing a game a week in the evenings after work. Suits me down to the ground – and I finally think I'm beginning to 'get' the game. Fun.
Oh, and I'm the United Croquet Club B-Grade Champion too. me Me ME and MEEE :) hehehe.
But seriously, croquet is a really excellent game.. it's really tactical, very skilful – ish like snooker on grass. If you get the chance to play properly (flat lawn, decent gear) then give it a go..