Just over 50 years ago, mum and dad were married. We had their "golden wedding" celebration in the back garden. It was a nice casual affair, a dinner on the Saturday, and then a big bbq on the Sunday. It was a lovely time, my sister came over from Minneapolis so all the "children" were here. I wonder when the next time will be. My sister had the great idea of making a photoboard of their 50 married years. I particularly liked this one: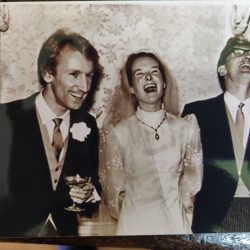 We (mum, dad and my siblings) did manage to get out for just a "family" dinner. It's extremely special when that happens, it's just so very rare that we're all in the same place at the same time. The curse of having two of us living in very different locations. We walked from Shankill to Dalkey for dinner. I'd walked the beach before, but, I'd totally forgotten that it was tidal! Fortunately we managed to sneak by the narrow point.
Anyway, a lovely party, congratulations mum and dad on making it to 50 years married.
No comments yet.. click here to add the first one.