So a pretty fun last couple of days really, headed out climbing with Glynn after work on Friday. Must admit though I was not really having a good day climbing, think bouldering every day (even if it's only for 30 or 40 mins) is just too much for my arms.. and I was far too weak for the routes Glynn was putting up.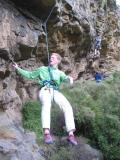 so I spent most of my time just hanging about.
Mr Squash Captain Man got back to me, so I'm on a wee summer team they have, will be starting games proper on January 17th… should be fun. No I didn't make the team because of any skill I have!! They've never even played me… so it's only 'cos I want a game really. Still, it should be a fun lesson in humiliation.
Today though was a laugh in work, see I've been there a week now, but tomorrow all the others in the office will be leaving for Auckland for their Christmas party.
Leaving me alone in charge of the office.
After a week.
It's going to be interesting….
But the fun thing was that they were making a video-skit for the Christmas party. All the different offices have to put something on. Ours was based (loosely) on the tv show "The Office". Which I've never seen, though I believe it's good!
I really must try to get my hands on a copy of it.. but things like – for example Sonya (the main receptionist / Admin / Finance / Everything person) had her feet in pink slippers up on the desk and would just say things like 'All busy here, all busy Darling'
And then went outside to relax..with a bottle of wine – in the sun. Sorry for the bad pic.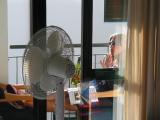 I was the 'token male', even had a little sign, which I didn't get a pic of.
Our boss – Suzanne, was totally stressed – in the skit only! – she's great fun.. so resorted to whisky and talking to Pooh.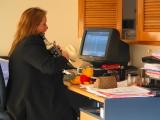 Hmm, well it was all very funny, but it's possible that "You'd have to be there"… then at the end I was reading Sonya and Julie a story while they were going to bed with two lovely little pink pig teddies (there's a fold out bed). That one I wish I'd got a picture of. We had to re-take that scene three times as we kept on cracking up. I was telling a story about a "Little pig called Arthur who'd been working hard all day".
Yes, defiantly have to be there for that one. Hope it gets a few laughs, I'd be annoyed if it doesn't. Oh, and I absailed off the balcony (well, was setting it up, they'd not let me go over it – well, actually I didn't ask, but I doubt they'd have let me anyway!)
So yeah, tomorrow manning the office. Should be a barrel-o-laughs.
No comments yet.. click here to add the first one.