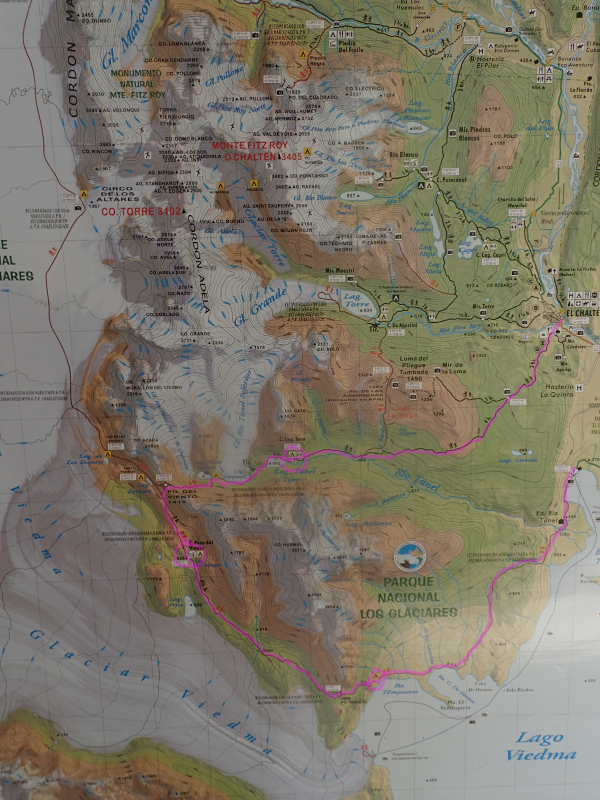 This goes down as the best multiday hike I've ever done. The "Paso del viento" circuit from El Chalten. As I mentioned in the last post, we were lucky to hear about it from overhearing a French couple. They unfortunately only had 3 days (and you need 4) so were unable to do it. Hey ho. The hike has two Tyrloean traverses on it (crossing rivers) so you do need some extra gear. The park authorities do check you for this before you go, so you have to have it. They also assess you for experience. Now, strictly speaking I've never done a tyrolean before, but as I've been climbing for 20 odd years I felt happy saying I had. But that link above was quite useful to check over what needed to be done. We hired an extra sling and carabiners for securing the backpack to the wire separately from ourselves (just makes it easier to cross).
We got our gear from the very lovely Polly at Viento Ouest.. she was one of the loveliest people we've dealt with so far… can highly recommend. It was only 90 pesos for the harness slings and carabiners, an an extra 30 I think it was for the extra sling for the rucksacks.
So, started our hike out of El Chalten. First stop, Lago Toro. Nice walk in, you have views out to Fitzroy for a while too, before descending into the valley by the lake.
It was a windy night, and we were a little worried about the next day, as we did have the tyroloean and the "pass of the wind" to pass… however, it calmed down a bit and by the morning it was OK.
The next day off to the paso itself. They don't make the way completely obvious, at least at the start, probably to deter people? Not sure. I'd cheated anyway and downloaded the entire route onto my GPS (my navigation has deteriorated a little, but the GPS really is great ;). Anyway, first stop, the tyrolean traverse. From the Tyrol region in Italy, it is a way of crossing between two points via a wire. Our crossings all had pulleys, which cuts down on friction and makes the crossing easier. It's still quite a bit of work, especially when going "up" on the other side of the crossing.
We had the normal sling + carabiner, + another carabiner. We also hired another sling + 2 carabiners for attaching the bag to the wire (as you can see in the picture of Maaike doing the crossing). You attach the bag directly to the wire and the other end clipped into your harness, so it's dragged along as you cross. It's funny, death wise it makes little difference how far you fall once it's "far enough", but, having a raging torrent of glacial water running underneath you does up the ante somewhat. It's all well and good "knowing" that you know your stuff, but quite another to put it to the test ;) Anyway, it was fine, easy even. We met a lovely French couple (Guillaume and Alexan) who came up behind us at the crossing… Maaike asked Guillaume to double check, but all was in order :)
After the tyroloean, it's slowly up alongside a glacier to the pass itself. This was probably trickier than the tyrloean itself, as the path had (we think) been partly nuked by a landslide in one place, so it was a little looser than it could have been. Anyway, on up the slope…
Then up towards the pass, the excitement of wondering what view we'd see was huge! I knew that we'd see the ice field, but not really sure what that would be like! I mean yes Antarctica.. but, I dunno, we didn't get that high so didn't get to see never-ending stretches of snow.. quite.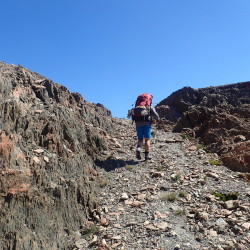 My pictures don't really do it justice unfortunately, but wow, what a view!


Then you drop down the far side and along to the campsite at the refugio (basic hut). The wireless password didn't seem to work.. most odd. We did try a new flavour of porridge/rolled oats. Chocolate. What a thing of beauty that was (we'd had a plain flavour for the last 3 weeks and were quite over it!).
The only bad thing about the campsite was the lack of a toilet, and really, lack of nice places to go. That coupled with… hmmm, less socially minded people meant there was the odd bit of old toilet roll and accompaniments around the place. Not so pretty.
Met a Dutch-Italian climber there (David) he'd just completed all his objectives (Fitzroy, Cerro Torre and another), and was wondering what to do next! He showed us a video from the top of Cerro Torre, enough to give you vertigo!. He was having a "rest day" and doing our entire hike in 2 days. ;)
Next day, followed the glacier along and up to the Huemul pass. There were some tricky little steps and a bit of a hike up to the pass, but pretty straightforward really. Quality views all the way, it really was special, and nice views down to Lake Viedma with little icebergs carved off and floating about.


Then came the trickiest part of the whole hike I think, the descent back down from Huemal. On the map it's marked as a dangerous descent, and they're not kidding. The exposure wasn't insane, in that if you fell you were unlikely to fall all the way down!, but, it was very steep and mostly loose dusty soil over rock, really not the nicest surface to be walking on. I was definitely happy when we both reached the bottom safe and whole.
Found our little campsite. At least, I think we did. It wasn't marked, but it looked nice a nice enough flat enough spot, and people had definitely camped there. I went for a little wander up the hill behind in the evening and there was some nice light on the icebergs.

Then an easy enough day out – another tyroloean to cross at the end, but we were experts by this stage.
The only downside really was getting back to El Chalten. There used to be a route from the end of the track back to town, but it has been bought and there were conflicting messages as to whether it was open or not. In the end we tried to hitch – a car did stop, only had one space, Maaike took it (felt very guilty for leaving me, so she says ;), and I failed to get a ride, leaving me with an 18km walk back to town :( I did manage to get a lift 6.5km out of town, but it was still not the best end to the walk. That said, I had my podcasts & language lesson podcasts so I used the time well enough ;)
All in all, I think this is the best hike I've ever done! Would highly recommend, but it is for "experienced" hikers I think.