This weekend we managed to get away from ChCh and off tramping. It was certainly one of the more adventurous tramps that I've done, and certainly just with Maaike. It was off to a place I'd heard quite a bit about – Brass Monkey Biv. It's here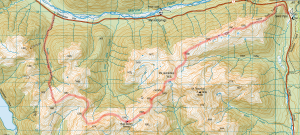 We parked the van at the St. James carpark (and hoped we'd see it on return – never like parking there). Up the ridge, along the ridge – following the route in the map above. We made one, slightly wrong route choice and went down a gully that was a little steeper than it needed to be (see route in red in pic below)
Still, it wasn't too bad, and we picked our way carefully. Still, not optimum.
It was about a 6 1/2 hour walk for us to make the hut. Mist was threatening to come in all the time, but our navigation was good (no tracks to follow this time!), and we had a tent anyway just in case everything went to pot. If you look very carefully (and imaginatively) you can see the biv in the middle of this pic – it was a welcome sight.
Lovely place to spend an evening. The mist was coming in all the time though, and we woke up to pretty thick fog. It cleared up enough, and I think our navigation would have been up to the challenge anyway, but it does make me think about getting a GPS and an PLB (personal locator beacon – ping a satellite and they send a chopper your way). I'm all for personal responsibility, but I'm also for stacking the odds in your favour.
Anyway, mist.
And then it was out to the road where we had to wait about 5 minutes before getting a lift from some venture scouts coming back from Nelson!! Fantastic – saved a 10 km uphill walk.
---
Also, here is a short video which really won't mean much to anyone outside of ChCh, but it's a skit on the earthquake recovery efforts… The jacket is the "Parka of Power" that our Mayor (Bok Parker) wears all the time… and it's evil and makes you power hungry it seems.
He's talking about a glider which is coming – a reference to Richy McCaw the NZ All Blacks captain who arrives at the end of the skit (and can walk on water.. but that's a whole different story!)
Really really good skit – hadn't laughed so much in ages.