Nozawaonsen is a small alpine village 4? hours, something like that, from Tokyo. Our friends Mark and Kate had been there before on their honeymoon, and they strongly recommended it for skiing. This was the reason we were all here in Japan. To Ski. It had about a 3.5m base by the time we arrived, and while there, it snowed another 1.3m or so. Insane.
Anyway, the village itself is lovely. There are 'onsen' (hot pools) all over the place. I think there were about 8 or so public baths in the village. It does take a little getting used to (it's damn hot, and fully naked – males & females have separate rooms). The temperature gauge definitely read '50c' when I was in there once, but mostly it was about 44 or so. Hot.
We stayed in Villa Nozawa and it really was a great spot. 100m to the nearest chair lift. Excellent management, nice enough beds, wifi (good for raspberry pi's ;) free breakfast (all you could eat) in the mornings.. and decent discounts on gear hire etc.
Anyway, some pictures from the village.
This last one…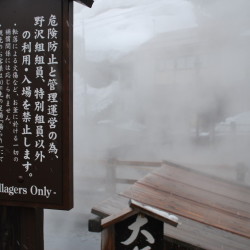 Is from the central hot spring in the village. A lot of food is cooked in there! Anyway, it was a lovely place to base ourselves. Here's a timelapse from our room. Start watching from about 20 seconds. It took me by surprise..
No comments yet.. click here to add the first one.