Then it was on towards Myvatn (where quite a lot of the volcanic activity is). Well, where isn't I suppose in this country, but still, Myvatn is a destination!
We went through quite a few tunnels on the way. Some of these are long. Like.. really long. At least 6-10km some of them.
We stopped for a coffee in Akureyri, where I received the best coffee art of my life. I was most impressed.
We did have a quick obligatory stop at Godafoss (Waterfall of the Gods). At the Alping (National Assembly) in the year 1000, the logsogumadur (law speaker) Thorgeir was forced to make a decision on Icelands religion. After 24 hours meditation he declared the country a Christian nation. On his way home he passed these falls and threw in the pagan carvings of the Norse Gods, this is what gave the waterfall its name.
Next stop on the way to Myvatn, well, in the area but before you got there, was a trip to the Pseudocraters (also known as Rootless cone's apparently). These don't look like so much from the bottom, just odd depressions.
Rootless cones are formed by steam explosions as flowing hot lava crosses over a wet surface, such as a swamp, a lake, or a pond. The explosive gases break through the lava surface in a manner similar to a phreatic eruption, and the tephra builds up crater-like forms which can appear very similar to real volcanic craters.
We went for a quick walk up Vindbelgjarfjall (529m) which looks out over the area. There were some great views to be had, and well worth the hour and a bit to get up there.
From here we looked across to the imposing Hverfell. Huge eruption ~ 2700 years ago. It's 463m high and 1km in diameter.
Next it was on to Dimmuborgir (Dark Castles). It's a weird place where lava was dammed by old lava, cooled, and made weird formations when the dam eventually burst. It was interesting, but, it'd be fair to say that I think you might have got more out of the place if you were a geologist. If you were running short on time, I'd leave this one to last.
That night we stayed at one of the busier campsites of the trip. And we took a dip in the thermal pools.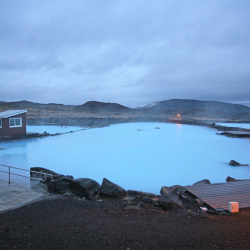 Picture above taken from http://www.thepolarroute.com/2013/03/the-icelandic-swimming-experience/. It was gorgeous at night.. but definitely pricey. If you want a cheaper thermal bath.. try out any of the swimming pools. They're all heated thermally and have baths. Not that we went in them ;) But heard that's the case.
A great place to spend the night, really nice camping beside the lake.
No comments yet.. click here to add the first one.