We did have a day of rest during the ski holiday (after 4 straight days of skiing, or was it 6 and then a break..) anyway.. we went off to "do culture" ;) First stop was sushi ;)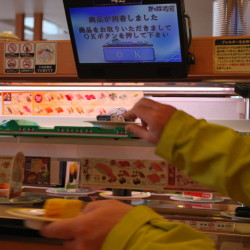 I think it's cultural anyway. Very tech. You chose what you wanted from the touchscreen, and then a little (bullet) train would zap out to you with the sushi on it.
Next – off to see the snow monkeys. These guys hang out in natural hotsprings all day. They must get ridiculously hot and headachey. There's even a snow monkey livecam, should you wish to have a look yourself.
Then we took a trip to Obuse where we sampled some sake.. and walked to a temple (which turned out to be closed). Interesting rituals around the drinking of sake (first sip without using your hands – just bring your head down and sip – neatly incorporates a bow). Definitely tastier than the last time I tried it in Dublin!
Then more skiing for the next few days… before all too soon it was time to go back to ChCh. We just had the one day in Tokyo really, but visited "The Ninja Restaurant". Honestly, I thought the ninjas themselves were a little lame (definitely more fun if you speak Japanese, as then you'd get the full experience, our waiter spoke very good English, but wasn't super theatrical). That said, the food was absolutely delicious and very well presented.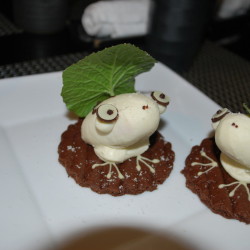 Maaike and I, on the morning before leaving, had a wander around the outside of the palace.. such luxury of space in a place as densely populated as Tokyo.
All in all, a really excellent holiday. I definitely felt like my skiing improved a lot, and really, such a great group to be travelling with. Thanks to all, and especially Mark + Kate, for organising such a great trip.
No comments yet.. click here to add the first one.