For the long weekend Steve & Michelle were heading away to Lake Tennyson and I went along with them (because, someone, who shall remain nameless, is working super hard on a course and doesn't come out to play ;) heh,
Aaaanyway, it was a lovely weekend away. The highlights were: being somewhat lazy on the Saturday and reading lots of Hornblower (excellent books, highly recommend), and then going for a walk up to "Princess Bath", a very nice corrie. Personally I think the princess could have chosen a warmer bath, but there you go.
This blob here is actually a mass of bees: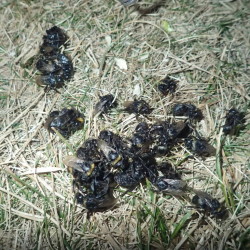 We had left a couple of beer bottles at the camp and when we came back, the (dark!) beer bottle had about 2cm of bees at the bottom of it. Steve, being the kind entomologist he is, warmed them up by the fire (but not too close) until they could fly away.
All in all a very nice Easter. Thanks Michelle & Steve :)
No comments yet.. click here to add the first one.