It's not often I get to hang out with all my siblings, so, I flew back to Ireland for a week to hang out with my sister over from the US, as well as my brothers. We did have a really lovely family dinner all together, just my parents and siblings. It was super special.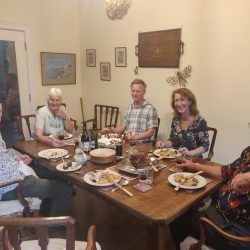 The rest of the week was spent working and chilling out, learning just how mum makes such a nice roast chicken (impossible to follow though! far too organic a process for my little brain to follow!).
I also took my niece Róisín out to see Elvis and go to Eddie Rockets, as she'd done a couple of baby-sitting stints for Anna :) That was a lovely afternoon.
All in all, a very nice short week in Ireland. All too soon my sister flew back to the US and I headed back to The Netherlands ready for Anna to start school.
Oh, two interesting things about the trip..
At Eindhoven airport they do not require you to take stuff out of your bags!!!!. So, why the heck do we have to do it other places? If the tech exists why can't we just use it.

Then there was a big rail strike in The Netherlands when I flew back in. I was pretty lucky to be able to make it all the way to Roermond.. So many things were cancelled. I was totally annoyed that Maaike was completely correct in using the Dutch national railway info over Google ;) I was sure Google would know all the things, but, no, actually going to the source data was the right way to do it. Who woulda thought ? ;)