Well it has been a while since I last posted. Life has changed, quite a bit. Fewer adventures (currently, though, hopefully that's going to change!), so, fewer blog posts. Having a kid is somewhat different from not having a kid. Still, it has been quite fun seeing Anna grow and develop. We're planning (quite obviously) on keeping pictures of her off the Internet, as best we can anyway. I will continue to put up password-protected pages, just ask me for the password if you want to see them.
Firstly, Femke (Maaike's sister) came out for 3 weeks. Totally lovely having her here. We did a few "adventures", biking in the hills, off to Hanmer Springs, and they went down to Mt. Cook area for a few days.
Next up, advent of code happened again in December. I'd promised myself (well, Maaike) that I wouldn't get completely obsessed over it, however, I completely failed. This year I tried to do it in Python. I'm a pretty terrible Python developer ;) turns out though, there are some pretty impressive libraries which can make up for bad programming ;)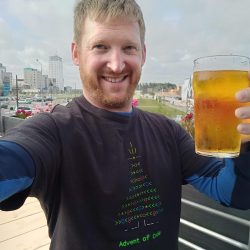 Good times. I particularly enjoyed day 17 where you had to simulate water flowing down and collecting in buckets. Mine looked like this:

Really good fun. My solution was ridiculously inefficient , but, at least it was correctly ridiculously inefficient.
---
Next up – Christmas:
We spent it up in Palmerston North with family. Some chess was played. William and I were very evenly matched, but, only because I've been playing most days for 2 years, and he hasn't played for about 10 years or something, maybe more. Good times. Lovely hanging out with family and introducing Anna to her only family in NZ :)
Maaike's cousin Imke came over from Australia for a visit. It's amazing how much more interesting you get when you have a child ;). Really nice getting to meet them for the first time.
It was my 40th Birthday in January. Michelle made me a lovely cake. Our tongues did turn green, it was totally worth it!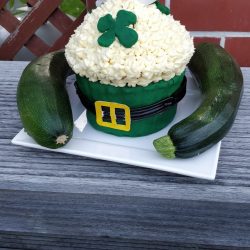 Maaike has given me lots of "vouchers" for my 40th. Mainly giving me free-time to get out and do adventures! One of which was going and doing a rogaine. I'm not sure if she planned the weather too and is secretly trying to kill me. The front which came through was brutal, but, we'd just made it back to the car by the time it hit.
Have to show a picture of the Rhinosaur-fish which Michelle and Amy made. Maaike sometimes has dreams, and in this one, she was being chased across a lake by a rhinoceros-dinosaur-fish cross. They decided to make one. It's so cool! I love the detail on it.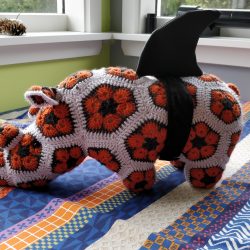 Finally, visited the new library (it's very cool! – new since the quake), went biking with friends, cousin Thomas & Glynn visited… all in all good times.