New Zealand is a very long way from where I'm from back in Ireland. It's about as far as you can get. It's a long way to travel, and it's hard work (30 odd hours on a plane). So, it was very nice that my parents made the effort to come out and visit. Their second time out here in the 13 years I've been here. Last time they were here, we did quite a tiki-tour around the South Island, but, this time we decided to just take it a bit easier and relax around Christchurch and the surrounds, with a quick trip up to Castle Hill so they could see where we got married a couple of years ago.
It was really nice to be able to show them our life here, show them the places we go to hang out, the friends we have. A simple, but a special time. We did a lot of eating, we visited the earthquake exhibition. I must say, I thought it was quite good. I really liked – well, liked is the wrong word, but, I thought the first-person interviews they had with just a selection of folk was very well done. It did bring it back for me a bit. Earthquakes are rubbish.
We also went along to Ernst Rutherfords Den museum. Ernst was a New Zealander, and he went to the Canterbury University (before going on overseas). It was fun to see where he did some of his earlier experiments, such a mind! I also really liked their family motto We're poor, so, we've got to think.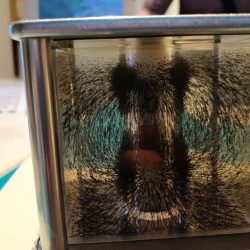 Christchurch does put on quite a lot of little (free) productions during the summer months. This year they did "The little prince", one of my favourite books. I really really enjoyed the adaption. It was extremely well done. The volcanoes, the birds, the little prince himself of course. There may have been a tear.
We visited the Ohinetahi gardens. They are a house and formal gardens, vaguely started back in 1865 (old for NZ!). The site has now been gifted to a trust and for the enjoyment of the people of New Zealand. Anyway, a nice place to walk about for a few hours.
Our "trip" for the trip was up to Castle Hill and Arthurs Pass. We spent a few days up there, wandering about the rocks of Castle Hill, and doing some walks around Arthurs Pass. The rata was showing off its red colour beautifully up by the waterfall.
It was super special to have mum and dad out here, and to be able to show them about. Thanks for coming!!