Disclaimer: Maaike and I are utterly spoiled and so the bar for what constitutes an "excellent hike" is really quite high at this stage. Is the dusky the "hardest/best" hike I've ever done, "no", but it's a decent walk to put on your list. For me personally, it didn't have quite a high enough ratio of effort:reward.
The Dusky is an 8 ish day hike (usually 10 days with rest days) down in Fiordland, the SW corner of NZ.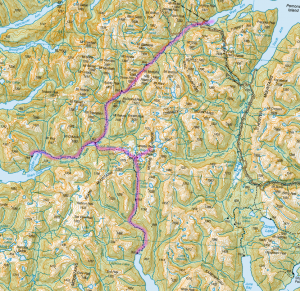 There are a few ways to do the walk, some people fly in, but, the way most people do it is to catch the boat across Lake Hauroko. It only goes on Mondays and Thursdays (normally), so, you have to work around that. Our plan was to go in just before Christmas and hike over Christmas, hoping that things would be quiet. We almost got away with it too, (unfortunately for us) there was a group of 8 keen American students who'd also chosen the same time period. They were actually really good, really well behaved but, a big group is still a big group. There were also another couple from ChCh and a nice young quiet German (Johannes) and a Polish-Italian experimental physicist couple!
Anyway, we got the boat in. My plan originally had been to simply stay at the first hut and let everyone else go on. Unfortunately, weather is a thing in Fiordland and we knew there was some wet weather coming in, so, we made tracks up to Halfway hut. It's a bit of a slog up the valley and of course, your packs are as heavy as they're going to be. The other couple from Christchurch actually decided to stop and head back at this point. Honestly, must have been a hard decision for them, but, I think a good one. You want to have been doing a reasonable amount of hiking/training before the Dusky, or at least be tramping fit. Also, I highly recommend walking poles, they'll make your life a lot easier.
After Halfway Hut, the next day it was on to the highlight (for me) of Lake Roe hut. It's a really nice little hut up above the bush line. We opted to take one of our rest days and explore the area. Totally worth doing, it's lovely up there, it also meant we lost the Americans for a couple of days, which was an added bonus. There's a walk up from the hut to Tamatea Peak which we attempted on our "rest" day. We didn't quite make it to Tamatea itself, but, we did make it to the peak below, and we were rewarded with probably the best views of the whole trip, out over the Pleasant Range. I strongly recommend taking a rest day there. We did see rock wren (no pics) too, which was a bonus.
Next it's on over the Pleasant Range and then a steep descent down to Loch Maree. The knees were definitely glad of the walking poles. You can see Maaike crossing the river in one of these pictures. The day before, some of the others had waded through water up to their chests to get onto the bridge. The levels really rise quickly around here.
In Loch Maree hut we stayed the night (nice and quiet) then headed down on the side trip to Supper Cove (the only place you actually touch Dusky Sound). As you return the same way from Supper Cove, you can dump a lot of gear in the hut to lighten your pack. Very handy. Unfortunately for us, the tides were wrong so we couldn't take the short-cut across the flats (would save you an uncomfortable hour or so). The Supper Cove hut is lovely, and there we joined up with the Americans again. They'd unfortunately had to call a helicopter as one of their number had pinged off one of the three-wire bridges (it twisted weirdly). I dread to think how much that would have cost if it had happened to an uninsured person in the US. Here in good old NZ, ACC will fix you for free (including the helicopter).
Back from Supper Cove to Loch Maree for the night, then onto Kintail hut. A pretty pleasant day all round, but again, this area is totally prone to flooding and we had perfectly dry conditions. This day could have been an utter nightmare in different circumstances. Just shy of kintail we had to negotiate some treefall which had taken out part of the track. Then, at the hut, we saw that the three-wire bridge itself had been destroyed. We had originally planned to have a rest day here (partly as our legs were tired, and mostly to get some peace and quiet again ;) damn, I sound like an old person ;). Anyway, as it was a wet day expected the next day from the afternoon, we opted to head on up over Centre Pass rather than have our rest day.
Centre Pass would have been lovely, except that it rained all day so we had no views. Total shame as that was supposed to be one of the more view-tastic parts of the trip. Hey ho.
In Upper Spey hut we decided to take our second rest day and sit out New Years Eve safe from the ravening hordes. It was such a perfect quiet day, just Maaike and I and Johannes. Just read our books (I was reading Neverwhere, loving it). Then the next day, a "short" 6 hours out to the boat at West Arm. Oh, speaking of 6 hours, most of the DOC times are 6-8 hours. I don't think we ever managed to do it in the short time, and on a number of days we were probably over the 8 hours too. Budget on taking 9 hours a day of walking and you won't be too far wrong.
All in all, it is a good walk and a hard walk and I am glad I've done it, I just won't be rushing back to do it again. I'd personally recommend the NW Circuit of Stewart Island over it for an NZ 10 day hike (in huts) and I still reckon my favourite hike of all time is the Huemul circuit in El Chalten. If you know of a better hike please leave a comment!