A lovely trip up and around Cass Lagoon with Frances and Berit. It's just an hour and a bits drive from ChCh so very accessible. The trip isn't quite a loop so you end up having to hitch (or do a car shuttle at the end). Frances who is quite pregnant at the moment was still smashing me up the hills ;) Ridiculous state of affairs.
I was most impressed with her Coke Can stove. Basically a cheap trangia burner. What was interesting was that I didn't see that she had built a pot support .. I'll have to check up on that. Still, fantastically light. When you know you're not going to be cooking outside, I'd say it's a real winner actually.
I've also been out climbing a little (and playing squash a little more). Here's Malc, enjoying the sun at cattlestop.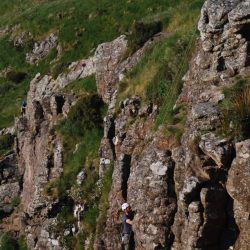 Oh, I've also recently discovered the very nice Lichess thanks again to Malc. I'm pretty rubbish at chess, but, I'm enjoying improving a little. The Android app is especially nice. If you're also pretty rubbish and fancy a game, let me know – I'm psdavey :)