Amy and Hamish are keen bike-packers, and they suggested heading in to Scotties Hut for the weekend. Just off the St. James walkway. There are also some super secret hotpools close enough to the hut! Always a motivator.
So we drove up to Hanmer Springs and drove to basically the ski-field access road where there's a carpark. Well, it's around there anyway, check the topomap :)
On the way in, we were biking in at around 1pm… but it was pretty cold. This turned out to be a major advantage, as the ground stayed frozen and meant we could bike on it. We weren't quite so lucky on the way back unfortunately!. Anyway, a decent bike ride in, 3 hours or so? We were pretty cold when we got to the hut, and hut itself was chilly of course. That said, it was very well insulated and actually warmed up pretty quickly.
Before dinner we headed off to the hotpools for a soak. They're some of the best hotpools I've been to. Partly because they're not perfectly natural. Well, the heat source is of course, but, they've been roughly cemented in, and a pipe going between the 4 hot pools. But it was lovely. We had the entire place to ourselves (as per usual in NZ, well, off the beaten track anyway). It's a wonderful thing, relaxing in hot water, looking up at a crystal sky with periodic shooting stars flying overhead. Yeah, it was a great trip. Thanks Amy & Hamish!
Maaike did have one unfortunate thing happen, her clippy pedals decided to stick to the pedal. Not because of the cold, they're just old. It made some of the river crossings that much more exciting ;)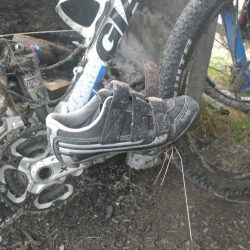 All in all, a great trip, would happily do it again next year!