I'll say it, I was grumpy. I was tired and feeling pretty lazy, and Maaike had far too much energy, as per ususal ;) Still, we had a good walk around at this years heights of winter, a 6 and 12 hour rogaine (we did the 6 hour). It was nice to be out and about on the hills. Thanks to Berit for the pictures, and thanks Alex for THE AMAZING FLAPJACKS! I really must get that recipe!
After that, it was straight back to see the Banff film festival, always completely inspiring (watch the trailer below). NZ Alpine Club run it in NZ, and they are kind enough to let me have a Snowpool desk there and give out some stickers etc. Really appreciate it!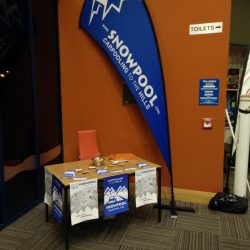 Also sneaked in a whiskey eve with the old Egressive crowd. A lovely evening, somewhat less messy than normal, I think people are getting old ;)
And, a new cast iron frying pan, great for pancakes, just make sure you season it. Basically you just bake it with a thin layer of oil several times. Then it should be OK!