We arrived off the boat at 6am. Full of a nasty head cold. The first day was to Braintree to see my first cousin once removed (Charles Mason) and his wife Harsha. It was a nice start to the ride, little lane ways and quiet roads, at least once we were away from the main heavy traffic from the boat.
One of the first stops was for coffee, and, my personal favourite, clotted cream and jam. A perfect start to the day. I'm going to have to see if I can source clotted cream in New Zealand.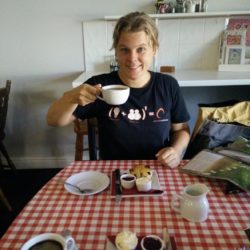 Anyway – onwards towards Braintree, and to the scary part of the day – and possibly of the trip. So, the method for navigating was to go to Google, put in points A and B, and then tell it to take you there by bike. Now, Google routed us along the A12. I knew that A roads are main roads (one below motorways), but I thought Google would have better sense. The A12 is like a motorway, in that it has a lot of fast moving heavy traffic, but it is worse than a motorway, in that it doesn't have a hard shoulder. Dutifully following Google's instructions (we've given our navigation voice a persona – Betty), Betty brought us down onto the A12, and I trusted her. Maaike had better sense and after about 500m on the A12 told me in no uncertain terms that we were getting off this road NOW. Good call. We walked down the A12 for about 2km until we found a field that we were able to exit through and get back onto a sane road. Since then, I get Google to give us the basic route, and then take a close look to see if there are smaller routes / better alternatives.
Made it to Braintree, and had a lovely evening with Charles & Harsha. Charles does a lot of cycling and gave us excellent route information for getting to London.
For the trip to London, we hardly saw cars as we were on disused railway lines and canals for most of the way, far nicer than that awful A12 business. We did stop at a pub (the Black Bull), and I must say, Maaike and I were both very disappointed in the level of service. I think we're just completely spoiled in NZ where there is a really excellent service culture. The owners were pretty grumpy, the filter coffee watery, and they didn't even hold the heavy double doors while I was carrying the coffee out. I dunno, it sounds trivial or that I'm spoiled, and maybe I am, but in NZ it really feels that wherever you're stopping the people are generally pleased to see you and happy to help.
Anyway, ra ra ra, on to London, down alongside the canals of the Lee Valley and in to Hackney central where my cousin Thomas lives. We were able to get about 2km from Thomas before we had to venture onto actual roads. I was surprised and happy to see how far you can get in London on these sneaky cycle routes.
When we got to Thomas' flat I was a little nervous of where we'd put the bike, even though he said he had somewhere for it! In the event, we did shuffle it into the bike room and it fit perfectly. Very happy to be in Hackney and see Thomas again. Perfect.