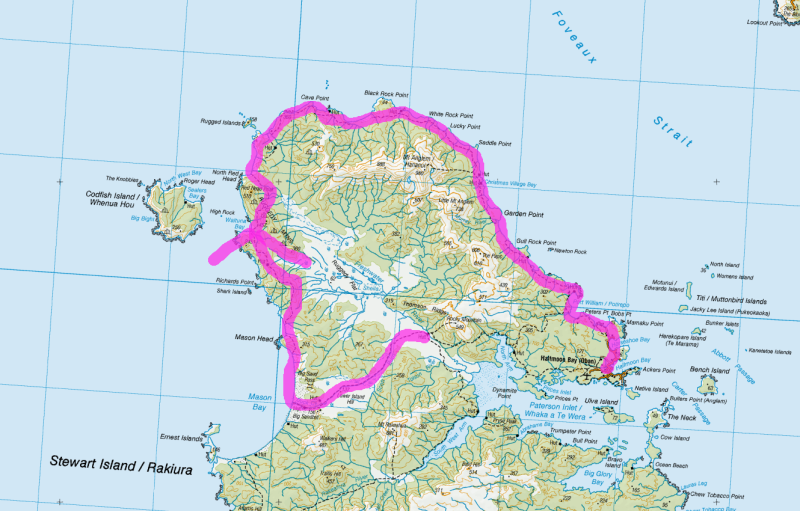 Looks small doesn't it? Well, the North West Circuit is no small walk. It's not exactly like biking the entire length of the South Island to raise money for charity like Ruth & Neil and Mark did recently (well done! what a mission), but it was quite hard work all the same.
The NW circuit is a 10 day walk, but we cut off the first almost 2 days by getting a water taxi to freshwater landing.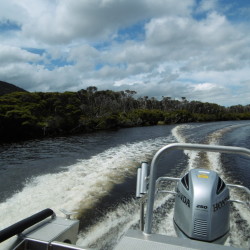 Here's a link to topomap. We started on the 23rd of December, and really didn't expect to be walking with anyone else. However, we got the water taxi in with Harold (a fellow Dutchman). He is quite the walker. He has previously walked the length of the South Island, and has been to NZ 3? times now. He has hiked a lot more places than I have!
Anyway, walked in the first short day to Masons Bay. The track was oh so dry, very unlike when I was last there with my friend Orla, many moons ago. Here you can see what the track was like the last time, and beside, this time.
So, we'd expected to have the track to ourselves, then we bumped into Harold, and then, at the hut, met my friend Luke and his partner Donna who were doing the same tramp as us! So it was 5 of us together for the next 8 days. Actually turned out to be lovely really, lots more chats.
Anyway, great sunset at Masons Bay. We walked out to see kiwi, and this time walked towards the old homestead (rather than the last time I was there, when we walked towards the beach). We saw 2 kiwi (having a fight at Maaike's feet actually), a great way to start the tramp.
The rest of the days kinda blur together, so I think I'll just put up a whole bunch of pictures rather than talk too much about it. It was quite hard work the first few days with the really heavy packs, but it did get lighter. My feet suffered a little bit in the heat, but the blisters weren't too bad. Dehydrated food was the staple for dinners, and it wasn't that bad as we'd borrowed a dehydrator and made our own food (as well as bought packets), so it was tasty enough.
We were so very lucky with the weather. Well, we had planned to go at this time of year as it is that little bit more settled, but still, we only had 1/2 a day of rain the whole trip. That is unusual for Stewart Island. We did get one decent view of a kiwi during the day time – super happy with the video :)
Very happy!! They are just so impossibly hard to see unless they're moving.
We saw a few of these signs.. suggesting that you might be tired, that other people in the hut might be tired, and that you should think about getting a helicopter out ;)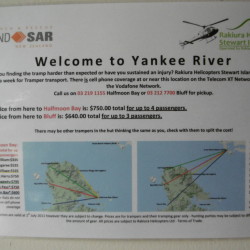 Here's a picture of Luke. He was wonderful to have around, very knowledgeable about the various birds and plants etc. And making good suggestions about shortcuts & sneaky cut-throughs to beaches etc. Somewhere along the way we had Christmas (in Hellfire hut). We brought (and shared!) port. It was well received :) (dinner was lamb, of the dehydrated variety)
Eventually it became less beachy and a little more foresty, but lovely stands of Rimu.
Remember what I was saying about Kiwi before, being hard to see.. well.. in the middle of that hole is a kiwi, and it's right beside the track. As we were walking past it let out a huge shriek, and then played dumb. So, gave it's position away, and then.. regretted it I suspect. Not the smartest bird in the world, but there are about 20 or 30,000 of them on Stewart Island now. No stoats, and the nastiest type of rat isn't there either. Good times.
Did see this kaka on our second last day. He was making a noise, which I imitated and he came down. I'm not sure if he would have come down anyway (I like to think he wouldn't have ;) but he really hung around for a while. I was so very disappointed in the camera though.. it just didn't perform well in the low light… I am planning on returning it actually.
Then, a final stay at Bungaree Hut on the way out, even went for a swim!! It wasn't the best nights sleep, as somehow the mosquitoes were able to get in easily. There's nothing quite as fun as trying to sleep with the whine of a mozzie in your ear.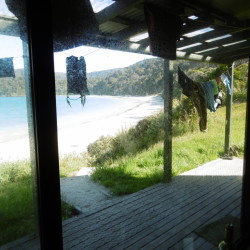 Finally it was the last day. It was … hilarious, the transition back to the "great walk", the Rakiura circuit. Don't get me wrong, it's wonderful that DOC put in these walks and make the outdoors accessible to lots and lots of people, but it was just such a change from what we'd been walking on.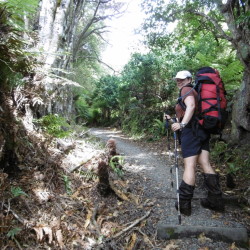 Definitely whetted the appetite for more long adventures though.
Here's a pic of Harold when he stayed at our place. Very tall! (even for a Dutchman)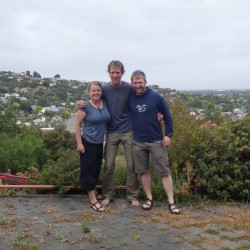 Good times.