After leaving Wales I had a really excellent (but too short) time in Ireland. First up, a tour of what mum and dad are up to in the garden… They're subdividing the garden and going to build their own wee house.. should be great once it's done.
They're keeping the vegge patch! :) Which is excellent news… It was lovely to see their plans, though I think fortunately I spend so little time at "home" now that I feel distant enough to not find it utterly sad and disturbing.
Mum has spent years apparently cultivating mistletoe.. apparently it's really hard to get it to take, it likes to be on the same type of tree that it was taken from. Anyway, finally she's made one of the pear trees get infected!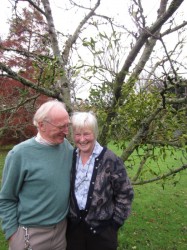 Mum and Dad themselves are as busy as ever.. Dad still heavily involved with the Mountains of the Moon University in Uganda which he helped get started. I did manage to get a couple of recipes out of mum (Strawberry Soufflé is one that I'm hoping to perfect out in NZ with Strawberries from our garden).. so yes, too short a time, but a lovely time for all that.
Oh, managed to downsize the stuff I'd stashed at home.. down to one box now. Probably should just be done with it and ship it out.