Well, it's the queens birthday weekend – a bank holiday weekend. Last year it was off with Steve & Yvonne and Warrick and Michelle to Mt. Cook to do some rock climbing. This year, it was again denizons of the 'Worzal Gummage Mansion' (as Dave Aubrey has dubbed the house), off on another trip.
This time it was North – up through Lewis pass to go hiking to Lake Christabel.
We left on Saturday evening, and stayed the nights at a place called Sylvia Flats, just about 8km short of Maruia Springs. At Sylvia flats there are natural hotpools,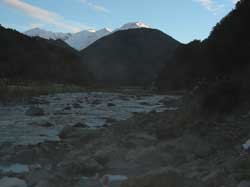 and there ended up being 10 of us soaking in the hot pools (nicely candlelit – with the stars coming out). A lovely way to spend the evening.
The next morning – Aroha, Luke, Esther and I were going to walk in a harder way – up over the mountains and down to the hut. As there'd been quite a lot of snow recently, and we weren't quite happy enough with the conditions – we elected to walk into the hut the normal way (along the river valley). Not the most exciting of walks.. but it was pretty. Lots of cute birds.. ;)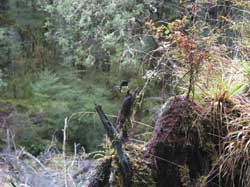 And some pretty spectacular reflections in the lake – if only it had been blue skies. It's a funny place really, there was a (massive) landslide – oh – a few hundred (at least) years ago – and it totally blocked off the valley – and formed this massive lake. The river itself has lots of logs all over the place. Warrick pointed out that the reason they've not been washed out (as they usually wood be ;)) was because the stream is fed by an underground outlet from the lake, so it doesn't flood.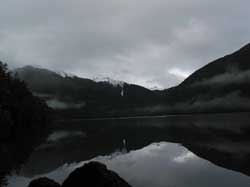 Then it was onto the hut. I was quite ready to be there when we arrived – I've not been finding the tramping as easy as I used to!! Dunno why. There were 6 others there.. coupled to our 8 (in a 10 bunk hut).. it was a good thing we'd brought two tents! It was funny, there were 14 of us – and I was the only non kiwi there. This is pretty unusual really – certainly never happened to me before. And I kinda liked it :) Maybe I am going native.
The hut book (which went back to the early 80s) had a pretty funny page in it – some ppl were complaining about the state of the track – and others were slagging them off..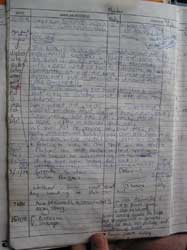 Played cards in the evening – Beany – a favourite of Warricks. It was funny, I just won the last time we played (a year ago) and did again, by 5 points.. It's a good game – quite like gin-rummi – except that anyone can play at any time.. fun game.
This pic of most of the group was taken at the lake on the walk out.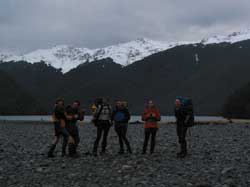 (L->R Warrick,Guy,Esther,Sue,Aroha and Luke)
It was great that we had pretty good weather on the way out – the sun through the mossy trees was spectacular. I'm afriad this pic does it absolutely no justice at all!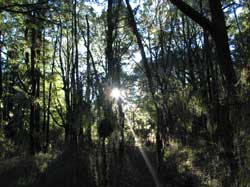 Another soak in the hotpools – and then back to ChCh. A fun weekend all in all.