So on Boxing day we headed off to Tongariro National Park. Mt Tongariro was, I believe, Mount Doom in the Lord of the rings.. though I could be wrong about that.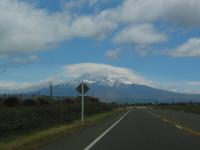 Gave a hitch hiker a lift. He was a Boner!. And his name was Kierry. Any guesses as to what a Boner does :) ? It's easy…. yes he de-bones animals – I think lambs and calves were the animals he usually dealt with, but I could be wrong about that!
Next day it was off on a six ish hour hike up to two lakes. Maeve and I were thinking about doing the Tongariro Crossing, which is supposed to be one of the best one-day hikes in the country. Unfortunately the weather was too mank so didn't get to do it, Matt had done it last year with Helene, and they'd had a great time, though did get some mist in the middle.
So off to the lakes. Crossing Lava flows and other volcanic 'stuff'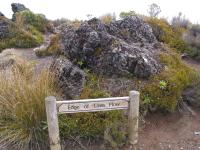 My Teva's gave me a bitta trouble, got a few blisters, tried adjusting them but no joy, guess will get a few calluses! :) So yeah, a good hike, I went on to the top of the ridge and Maeve headed back, but caught up by the end, was a good run :)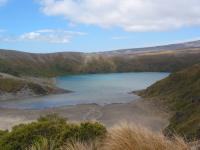 Also saw a wee waterfall on the way down too.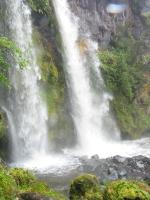 Maeve and I were staying in the Skotel. Yes, the Ski-Hotel. So indulged in Saunas and Hot-Spas for free. Which was nice.
And whiskeys, which weren't (free) but were nice too.