Well not much to say really, off at 5:25am to Palmerstown North tomorrow morning. Really looking forward to it now. Maeve and I are going to have a Volvo for our use, which is going to be great. Pretty much have an idea of the things we want to get done. May get to a volcano that was supposed to be Mount Doom (so Maeve says anyway!). So that should be good.
Had a good look around the Rough Guide website, which was and is going to be a very good thing to keep up with. There's a section for travellers – with tips and stuff, one of them I will definitely be doing as it's a site which sorts you out for accommodation and jobs during the ski-season NZ ski so will definitely apply for that one.
Also checked out – just for initial ideas – flights for travelling on. There's a company called Pacific Blue – the Ryanair of down here, that has flights for $100 (NZ dollars) Each way to Australia. That's 100 Euro return…. not too bad really :) Mind you that offer is only valid if you book before Christmas day, but then it only goes up to $150, so it's not toooo bad. Am thinking of heading to Oz in October for a month, then back here, and fly to Singapore, 'do Asia', and then head to Africa and maybe head through Kruger and on up to Uganda. But I really haven't a clue. So if anyone wants to meet up along the way … ;) Climbing in Thailand… could be good…
And then today, after a lazy start headed up to Castle Hill to do a couple of easy routes. Maeve got her first lead in New Zealand.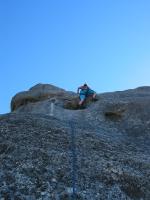 And me, well I was doing this awesome 7c+ move when the damn hold broke.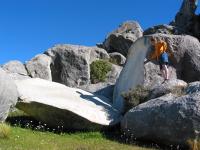 What can you do?
Well, there'll be naught from me for a while, but hopefully will take loads of pics to make ya'll want to come out here as soon as is humanly possible.
Have a very Happy Christmas, I shall dream of a white one, but I can't see it happening!