Well, the weekend twas fun. So Saturday didn't get up to much, went to town to see about getting a pair of shoes (as the ones I got 2nd hand were *way* to big for me.. size 11 or something, and after the door-to-door I had a wee blister.
Found lots of shoes, but none that I liked for a price I thought was reasonable… I mean lets be honest here, I'm only going to wear the things to interviews and also just around the office (from my chair to the kitchen – roughly 10 feet every 2 hours). So in the end opted not to get new shoes… if I do go back to door-to-door then I'll get a new pair.
I never intend on going back to door-to-door.
Didn't get up to much on Saturday evening other than watching Lethal Weapon 4. Which I must admit had a pretty cracking cast.. well – there's this bloke wots called Jet Li who's a pretty awesome (in my opinion) martial artist, so that kinda made the film for me.
So yes, Sunday, very lazy start – and then off to do some Christmas shopping. I hate Christmas shopping! To be honest, though I'm pretty ok at receiving presents.. And a pretty cool start to Sunday was getting a mail from my parents – with mum saying how she was using her pasta maker to make sheets of lasagne in the deepest darkest Africa. Am planning on getting back through Uganda when I do head home, hopefully stay a few weeks..
Then it was off climbing in the port hills…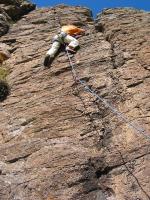 That's a pic of me leading an 18. I got (un)reasonably pumped out very quickly (should have warmed up on something easier) and after getting through the crux quickly wussed off to the right and had a nice sit down for a while. Then eventually climbed back onto the route and completed it. But not a clean attempt. This time. Far too crimpy for me. Oh, the name of the route was Tres Estrellas De Oro, but I've no idea what that means… if anyone knows please tell!
Glynn was climbing like a complete daemon. Here are a couple of pics of him climbing a 21 (I'd say it was about 6b/6b+)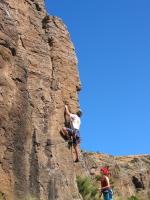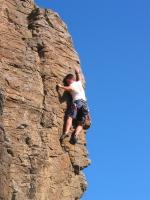 Didn't stay out super late that evening.
And then today – Monday and back to work. Manic really, however some good came of it, as the others in the office are off up to Auckland from Thursday->Monday. Which means that my boss can't head to The Return of the King on Friday at the Christchurch premier.
So she gave me her VIP pass for Fridays release here in Christchurch.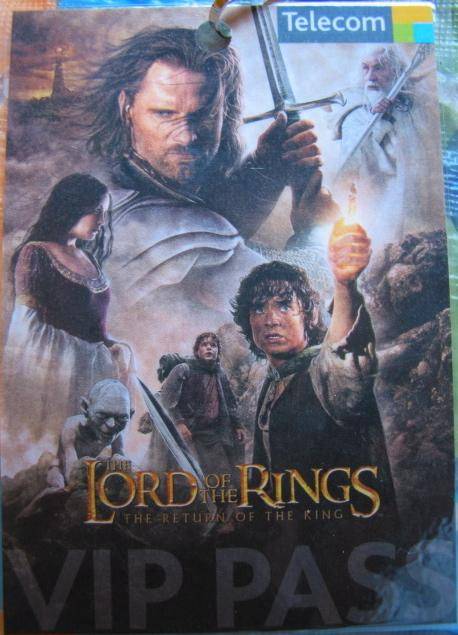 Which is great. I'm actually going to be seeing it on Thursday anyway, but figure I'll head along on Friday too, and seeing as I've got two passes and Glynn is off to Oz on Friday afternoon twill be a nice way for Maeve and I to spend the evening. Though I doubt it's a particularly VIP pass… still would be cool if anyone from the cast (at all) turned up. Never know, will defiantly bring my dig. camera and hope they let me bring it in… we'll see.