So a pretty cool weekend, Saturday was spent pretty lazily, at least until the evening when we went to 'Coca Cola Christmas in the Park' Not that it was solely sponsored by Coca Cola, though they did remind us that it was sponsored by them at pretty much every interval they could. Fair enough I guess, it was kinda fun. Probably 90,000 + people turned out, a really big family-evening-out.
Though it was so strange singing "I'm dreaming of a white christmas", and all I could think was "keep dreaming, it's not going to happen!" All it would have needed was "In the deep midwinter" to really round off the bizarreness of the situation! I reckon Christmas down here is going to be slightly odd!
The fireworks (no I have no pics) were pretty excellent at the end..
———-

Sunday then – well up at 7:15 as I decided to go on another hike. It was excellent, but I would have been going on a longer one except that there was a big South Wester came through and dumped a pile of snow on the hike that the harder hike was going up and 'cos I don't have ice-axes and crampons I wasn't able to go.
The hike was kinda cool though, started off walking (along a road) through a beech forest.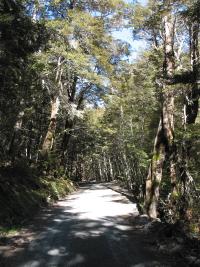 A lot of the trees were covered in algae of some sort, apparently where you get mists going through the forests it can stretch all the way to the forest floor, but it wasn't that big here.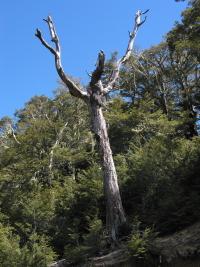 Then it was up onto a ridge and on around to a sorta summit, gained about 2500ft, up to about 5000 in total. There were some nice views from up on top though, this one: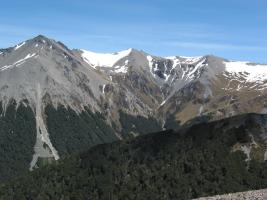 Is a ski-field area, I think, in the winter though it looks a little steep to me.
Then this bloke Ewan, a carpenter, who told me such stories like taking a couple of Japanese tourists that he and some others befriended out 'Spot Lighting Rabits' Guess… yes, you drive along in your car (usually with a separate flashlight I guess) and then when the rabbits get caught in the light they freeze. And then you shoot them with a gun. Easy eh ;)
But yes, he told me about the pastime of Scree Running. Where… yes… you run (well slide) down a scree slope. He said it was the NZ equivalent to bull running. Though I must admit, I found bull running much scarier when I tried it in Madrid.
Anyway – here's a pic of Ewan, and some of the scree we slid down. It was actually very easy, and not 1/2 as scary as I was expecting.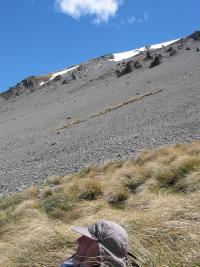 The last thing, is of this triangular box with rocks in it, it's on the right hand side of this pic, quite small. Wondered what it was, but apparently it's an avalanche deflector, and it splits (you can't see it in this pic but it's sorta on the prow of the mountain between two valleys) and it splits the flow off down into the two valleys.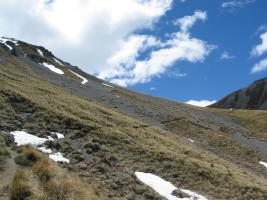 So that was this weekend, may have to check out the Cambridge Tramping Club and see if they're….well…. younger.
And I was only joking about the bull running ;)