So still no joy with jobs.. could be January methinks before something proper turns up…. slightly irritating when you get turned down for Call Centre work 'cos of lack (well complete absence) of experience… Ahh well… at roughly 90 euro a week for food and accommodation it's ok.. I can last quite a wee while.. and I am getting to climb quite a bit so it's not all bad! :)
One thing I must comment on – Birds. That really is one of the excellent things about NZ.. everywhere you go there's birdsong, even in the middle of the city. See they just don't really have that many natural predators here, well all the ones they do have were imported… so they flourish. Especially once you get out into the countryside.
Joined the squash club and went along to check them out, am really dying for a game so will be getting in contact with the club captain this week so see who'd be up for a game.
May be going on a hike on sunday.. just depends on whether I'm going to need ice-axes and crampons (of which I have neither) hopefully will be ok without them.
Went out sport climbing as well yesterday – to a large crag – about 200+ routes about a 20 min drive from where we live. Called Briton Crag, it's all odd basalt kinda rock, lotsa crimps and few jugs, but the friction is really good, and it's just great to be outside climbing again. Reckon that's going to become our usual haunt, except when we get away for the weekend.
It also has a nice view which this pic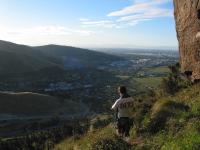 doesn't really do justice to.
Oh, and Declan sent a link to a site which has a pretty good description of a 6 months climbing trip around NZ, climbing ish the sorta grades we'll be climbing.