I flew into Amsterdam, and it was lovely to be reunited with Maaike after a month away. My computer's going to miss me though ;) She had cleverly organised bikes, so we then biked from the airport through to Warmenhuizen, a place close to the sea, and where Maaike's parents do a house swap with friends twice a year. It's great being back on the NL cycleways, they really are the best. The beer fridge was fully stocked upon arrival – so really, a perfect start to the trip.
Now, as you probably know, quite a lot of the Dutch country has been reclaimed from the sea. In fact, Voltaire had the following quote:
God created the earth, but the Dutch created the Netherlands.
And it really is phenomenal the amount of reclaimed land. We drove across the Afsluitdijk, built between 1927 and 1932, it closed off a 32km stretch of sea which then became freshwater, and then they were able to start extensive poldering (land reclaiming) in the area. We saw a water-spout there too, at least I assume that's what's in the picture.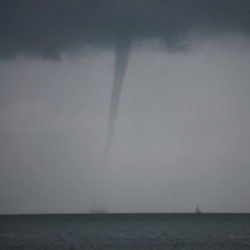 Then it was on around to Schokland, which used to be an island in the Zuiderzee (not a very high island). There's a nice museum there, and it's also the first UNESCO site in The Netherlands. Lots of prehistoric artefacts were found in the area too, people have been around here for quite a while.
Another day we went for a decent bike ride (70km) out from Warmenhuizen and around
Really lovely biking through the old towns where Maaike's parents used to live.
Also tried smoked eel. I *think* the last time I tried it was many many years ago in Vietnam when I was visiting there with my sister. I remembered thinking it was disgusting!, however, I suspect that might have had more to do with what it was eating than anything else.
Another day we visited the beach, including one beach they'd constructed using 32 million cubic meters of sand. It's part of the water defence line.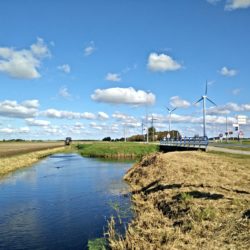 This map (CC By Wikipedia)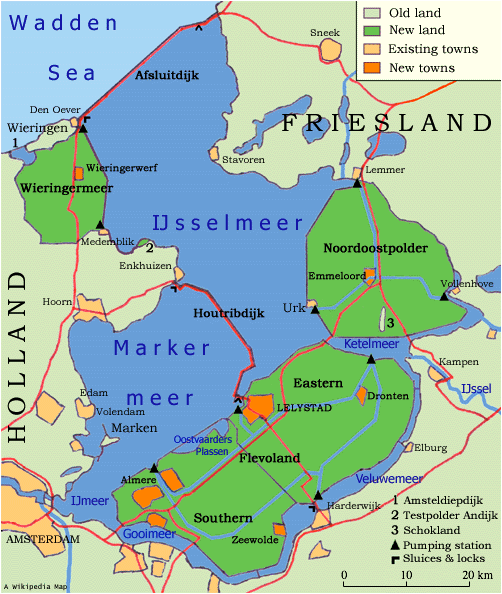 Shows some of the poldering (reclaimed land) that we had been visiting. They're pretty large areas. Most of where we toured was below sea level. It's somewhat unnerving to spend all day between -2 and -6m ..
All in all it was a lovely tour up around the North of the country with Maaike's parents. Thanks very much to them for a most enjoyable week. It definitely gave me a sense of the scale of the operations The Netherlands undertakes to keep the country safe from the rising waters, operations that they'll only have to increase as this century marches onwards into 400+ppm of CO2.
Comments (2)