I flew back to Ireland, Maaike had a quick trip to Norway to see Guusje and Eefje for a long weekend. I continued work on the Sjoele set with dad. I love playing with the lathe, it's just so incredibly satisfying seeing the wood chippings fly off. I'm definitely considering doing a wood working course when I'm back in NZ.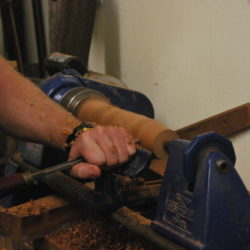 My Brother Chris and I went for a bike ride along the Barrow. It was hard hard going. Partly because I'm now fat and weak after not really having much exercise other than that of lifting food to my mouth from yet another fantastic dinner coupled with drinking nice beers. It was 85km, and hard going as the ground was mostly grass / loose gravel and a bit wet.
A stunning day – thanks Chris for the invite!
My cousin Thomas was over from the UK, along with Aunt Mary (who lives in NZ) and it was great to catch up with them for the weekend. Unfortunately I was sick for most of the time with a nasty sore throat. We went for a nice walk along Dun Laoghaire pier, and then back to Shankill over Killiney hill. I'd never have thought of doing that before, putting it in the "far too far to walk" category, but now it's fine!
Comments (1)