So, twas a fun weekend really, started off leaving work nice and early on the Friday evening. Had a pretty interesting lift up to Kaikoura with Suzanne and David. Learned some pretty interesting things about just how helpful kiwi's seem to be – though maybe it's the same the world over, I don't really know.. but see the South Island is having the worst drought in 100 years (aka a pretty awesome summer for climbing ;) And so all the livestock are basically running out of things to eat, so they cart all the livestock – or a lot of it anyway – to the North Island, where other farmers just let them graze on their land for free… which is pretty cool if you ask me, the trains will transport for free, and there are loads of lorries carting the animals around too.
So I thought that was kinda cool. Also pointed out that pretty recently it was discovered that the soil and climate are perfect for grapes in that part of the Island (there are already many vineyards up the North of the South Island) so that a lot of the old sheep farms are changing over to be vineyards. So as you drive North there are just rows and rows of new vines. Also.. they plant a rosebush at the end of each of the rows. The reason for this is not to make them pretty! ;) but because the rosebush gets disease first, so that you can catch it before it gets into the vines proper.
The last interesting (to me) anecdote was the Shoe Fence – which I have yet to see – apparently it's on the way to Wanaka/Queenstown. Anyway – apparently a farmer found a shoe (or two) in one of his fields and he tied them to a fence for whoever had lost them to come find them. And it kinda caught on, and apparently now people go along – add a pair and take a pair. Bit weird, but that's this place for you. There is also, apparently a bra-fence too… though not entirely sure if they were having me on about one. Will require investigation!
——-
So up to Kaikoura, a great place – drove up to 'the batch', which is like a holiday home – but very basic – well – homey – no matching cutlery type place ;) but with a really relaxed feel to it.
Had a quick walk down to the seals just down from the house.
Apparently they can be pretty vicious, I got a little close to this one, and as you can see he's making it pretty obvious that backing off would be a good idea. If you get between them and the sea… well it's a pretty bad idea. Once you're in the sea with them though they're fine (apparently!)
Had a beautiful view out over the bay, and the stars at night were crystal clear. Finally got to see the Southern Cross…
Played a big old game of Trivial Pursuit in the evening.. guys vs. girls. We won of course :D hehehehe, mind you, I love games, don't mind loosing as long as I play well.. but this game descended into the most brutal competitive game I've ever played!! Compounded by the fact that the girls would ask their respective partners for hints!! HINTS! – in trivial pursuit… sheesh… ok so admittedly it was an NZ version of the game – well geography questions were sometimes particular to the region.. and we had two NZ people on our team – Dave and Crozza (well Matt really) but still !
So that was over a bottle of port and really was a lovely way to spend the evening.
———–

The next day – Saturday – a lazy enough start to the whole thing, getting up at 10am, followed by a fry-up… quite yum. Then into Kaikoura proper.. The Maori name Kaikoura translates to 'meal of crayfish' (Kai – food, koura – crayfish). The reason the place is so famous for the seals, dolphins and whales is that basically the continental shelf is about 1km off shore, and the currents bring a lot of food up into the shallower waters which then can't get back down again, and this means there's an abundance of food for all 'd wee fishesss' (gollum gollum).
We saw dolphins jumping way out to sea, will have to come back and do some swimming with them! Though I am also thinking of doing a PADI diving course here too, $460 which is about 250 Euro ish… anyone know if that is reasonable? Would get me the open water certification I think.
But the main excitement of the day was snorkelling for Paua which was – interesting.
So Dave, Matt and I went out to catch them.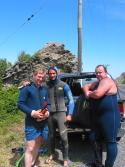 As you can see, the wee Irish Lad has only a wetsuit top – lent very kindly by Dave, and the tough Kiwis have much fuller covering! Still, wasn't too cold (for the first half hour ;) Snorkeling itself took me quite a while to get into really, I found it very hard to just relax into it and not get freaked out by having my head under the water and just breathing through a tube. Mind you, I think if I do take up snorkelling again I might have to get one of the more nifty designs (that I didn't have!) which sorta stops the dregs of seawater getting into your mouthpiece…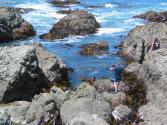 So we swam around for a while, it's a fairly magical world down there, something I would like to do again, in the end we got 8 Paua…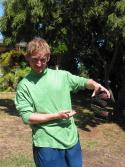 You can see in the above picture just how much suction they have!! That's all 8 holding onto each other through their suction pads. Very cool. The catching of Paua is very strictly regulated, you can only catch Paua above a certain size (5cm) and you are not allowed to use tanks (no Declan, not the military type), and for personal use you are only allowed to catch 10 a day (mind you, the 8 fed all of us for dinner – it's an incredibly rich food) If they catch you they can take all your gear – your car! – and a hefty fine)

And I quote !


A Ministry of Fisheries operation aimed at increasing public awareness of fisheries-related offending in the Banks Peninsula area has proved an immediate success. Last week, three teams of Fishery Officers visited many bays in Banks Peninsula, handing out newsletters and related information as part of Operation Contact.

On Friday evening Fishery Officers became aware of some suspicious activity in the Onuku area, near Akaroa township and, together with local police, stopped a vehicle attempting to leave the area.

They found the two occupants of the vehicle in possession of approximately 250 shucked paua, far above the legal daily limit of 10 paua per person. On examining the paua, a significant number were found to be under the legal size limit of 125mm.

Two men spoken to in relation to the paua made admissions about illegal taking. The paua and the mens' vehicle were seized, and charges will be laid in this matter. If convicted under the Fisheries Act 1996, the men could face maximum fines of $250,000 and forfeiture of the vehicle. Christchurch District Compliance Manager John Slaughter said he was very pleased with the Banks Peninsula public's reaction.

"To catch two paua poachers highlights the issues we face," Mr Slaughter said. "Other information has been received as a result of the operation, and we intend to keep an active involvement in the Banks Peninsula area over the summer months."

Mr Slaughter said all information in relation to fisheries offences and general queries were welcome and suggested the public make contact with MFish by telephoning its

So… you definitely don't want to break the rules.
So – yes – we got them out of the shell – they're kind of in 2 bits – the top part you eat, and the bottom part – the guts of the thing – you don't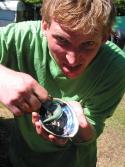 Those are the bits you don't want to eat!
Finally you bash them with a mallet to flatten them out (and I guess tenerdise the skin a bit!)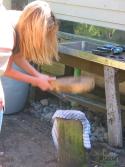 And then all that's left is to cover them in flour, salt and pepper and fry in olive oil. While it doesn't look delicious, it really is. The taste… hmmm, cross between a really thick yum mushroom, nuts? and ummmmm… something else. It's not a particularly fishy taste – not overpoweringly so anyway.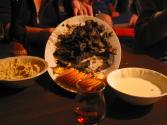 Then just chilling out round the fire, toasting marshmallows and generally being lazy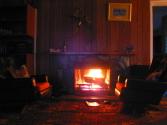 Does have a pretty enough shell though.
Sunday – back down to Christchurch, definitely wishing could still be up in Kaikoura though, really was a great place.
No comments yet.. click here to add the first one.