Torres Del Paine. At one time, maybe even now, voted the "best" hike in the world, by people who vote on these things. It's a stunning place all right, no argument there. Big granite massif carved out by glaciers popping up out from the plains.
Our objective here was the circuit (called the O), opting to do it in a fairly leisurely 10 days. There's a more popular (very busy) shorter walk called the W .. you can see here the two different tracks. The circuit turns into the W..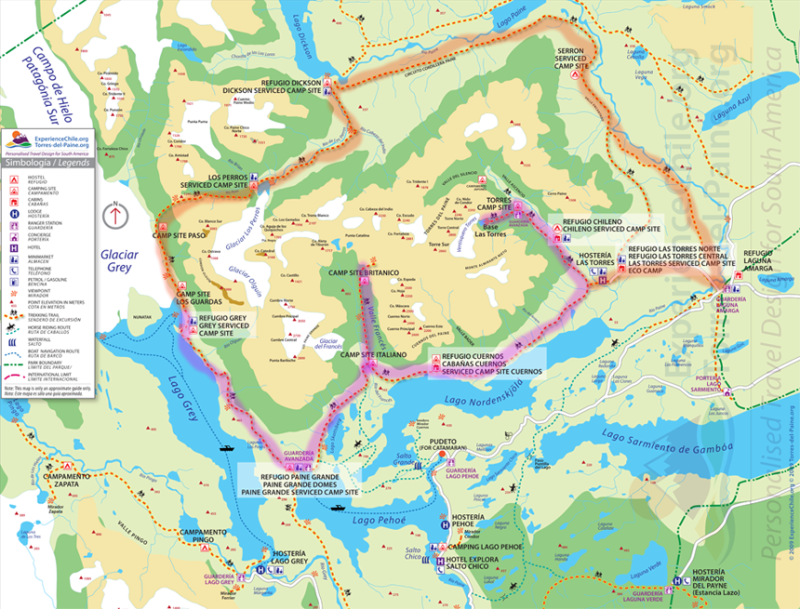 It was hard enough going for the first few days. While we did have mostly dehydrated food, 10 days is still 10 days, and I was definitely happy that we had become at least a little bit fitter after our previous few weeks hiking out of Ushuaia. We started at Laguna Amarga, then headed to Seron for the first night. Annoyingly, the dataset I'd downloaded for my GPS I hadn't checked properly, so the route wasn't in it. Completely unneeded as you'd have to be blind to miss the trail, but still.. one to check for next time. There were these handy little maps around the place, handy, if quite misleading. The heights and distances never seemed to be accurate, but it did give you a rough idea of where you were, and the sort of terrain you were going to be crossing, and it was always a lovely surprise when you thought you had 3km to go, but actually only had 1.
The national park is a National Park, however, there is private land ringing some of it, and they certainly make the most of the tourist dollar. The campsites on the private land (including Seron) charged more, and gave worse service than did the ones on the National Park. In fact, the best toilets we found was at the free campsite at Torres. Maaike has banned me from taking / putting up pictures of toilets. Personally I think this is a shame, feel free to comment ;)
So, onwards and slowly upwards – next day to Dickson. Nice views of the back of Torres, if somewhat covered in the snow which had been falling up higher that day.
We were lucky in that the weather turned quite foul later in the evening, but after we had put up the tent. Hurrah. Not quite sure what the future was going to bring, as in 2 days time we were going over the main pass (Passo John Garner) at 1180m, and they do close the pass. Next day, up to Campamento Los Perros. We had completely terrible views on the way up… and it was very very cold, and rainy. It was bucketing down in fact. There was a shelter at the camp which everyone hung out in trying to keep warm. The pass had been closed that day, so the campsite was actually very full, as it had 2 days of people there. I congratulated myself again on choosing a tent were you put up the outer first before the inner.. so many tents get this backwards, and I simply don't understand it. Anyway, our tent was perfectly dry and warm, but I still slept that night in my down jacket, and I wonder how many of the inexperienced / less well equipped people had a very cold night. We did see people hiking in jeans..
Next day, the weather had improved (wind had dropped) and the pass was open, so off up we went. It was still quite windy at the top, a lady in front of me got blown over!
Then Glacier Gray appears, and all is forgiven. That really is a magnificent sight, and we got to enjoy it for the next two days. That night we stayed at Camp Paso, a free campsite. When the sun came out again, we went a little way from the camp and took some more pictures, it's just stunning in the sunshine – all the colours come out, and you can see the relief better.
Then it was time to make our way to Refugio (and camp) Gray. On the way we saw an injured person being stretchered out.
It was a stark reminder of how cushy we have things in NZ. In NZ I do take all the precautions I can while hiking, but I also take a locator beacon. If something bad happens, I pull out the beacon and a signal gets sent to a satellite and they'll be in touch with the rescue services, generally meaning a helicopter comes and gets you. All for free, due to the wonderful thing that is ACC. I'm not sure what, if any, payment this patient would have had to make, but no helicopter for them :(
Camp Gray was where we joined the W (popular) route. Certainly the numbers of people increased hugely. Saw a fox there, seemed quite used to people. It was also the first refugio I'd seen here. Comfortable looking places I must say!
Great views back up to the glacier, it really became a much more three dimensional structure.
Next day it was on to Paine Grande camp, nice place, if open (hurrah for tunnel tents which are good in the wind) And a picture from the tent facing the other way… we FEASTED in the shop though. Maaike had 3, yes 3 eggs, and we shared a TIN OF PEACHES. It was a feast.
Next day up to another free campsite (Italiano) that we'd booked from Puerta Natales (thanks to Isidor for suggesting that one, as it was full otherwise). We then also did the hike up to the mirador (viewpoint)s.
Then a long, but fairly cruisey day to the main campsite – Las Torres. Another one on private land. We had a very nice dinner with some English (Rob and Chris) & Greek (Georgios) astronomers from Southampton University Supernova group we'd met on the circuit and played leapfrog with for most of the trip. They were great fun! I was most impressed with Georgius, who was doing the circuit as his first ever hike. I'm not entirely sure that he knew what he was getting himself in for, and I'm not sure how many times he thought he was going to die / wanted to go home, but he did make it – and well done him!
Rob spotted someone looking at the hill at twilight with a camera, and thought it was odd so went to have a look, and that meant we got to see Puma! Just hanging out.. Somewhat grainy pics, but it was low light. Someday when I'm rich I'll get a faster lens.
So, saying goodbye to the Astronomers, we headed back up the hill to the Torres campsite.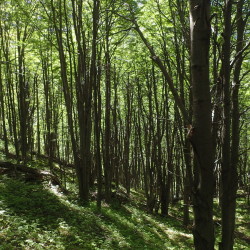 The aim here was to getup for the sunrise over the torres. The ranger told us the sunrise was at 05:15, but I should have checked the GPS which put it at 06:30… Maaike opted to go up to the lookout the same day, and then see what she felt like at 04:15. So, this pics is Maaikes.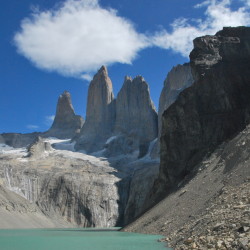 I got up at 04:15 and decided that I would head up the hill. It was dark when we got there, but you could see a light way up on the cliff, where a climber was also waking up, getting ready to tackle the rest of the route.
I was looking at the torres thinking about how unfortunate it was that I wasn't seeing the sunrise, and then thought about getting up and looking back towards the East… and was rewarded by this quite nice sunrise!
It was getting late in the morning for getting back, so I started back down the hill… promptly getting very slightly misplaced (rather than actually lost) which was a damn good thing, as it meant I delayed my descent by about 10 mins, which was the time it took for the sun to find a gap in the clouds and give us the last of a sunrise on the Torres. A lovely sight.
Finally, back down the hill, and the walk back to Laguna Amarga for the bus back to Puerta Natales. It was nice to do the hike, glacier gray a definite highlight for me, but I'm not sure I'd rush back to do it again, I think I prefer slightly less majestic places which are a little quieter. I guess that's the curse of being the "best hike in the world" :)
Funny, all through Torres Del Paine we'd been fantasising about the dinner we'd have to celebrate my birthday, however, upon getting back to town I was vomiting for a good 4-5 hours, and then had a somewhat upset stomach for another week. Good dieting mechanism that's for sure.