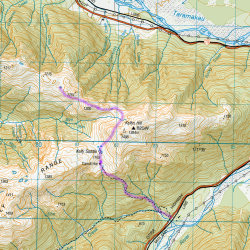 This weekend it was off up to the Kelly Range (on the far side of Arthurs Pass). It was a good excuse to try out the new GPS ..
It's a pretty steep climb up, but at least it gets you up on the tops relatively quickly. We did meet a couple of hunters on the way down (one father and his two kids – they'd shot 3 chamois). One of them warned us to 'use a torch at night.. and wear bright clothing…) which really didn't fill me with confidence I must say. Hunters are, obviously, supposed to positively identify their targets as being non-human. Still, better safe than dead.
So.. once up on the tops the idea was to cruise around off track and follow the ridge along until we hit the tarns at the end.
We didn't quite make it as far as we wanted.. and the GPS really came in useful as the terrain was really broken and we were aiming for a very small tarn. I think we could have navigated correctly to it, but it was .. very handy, to get the GPS out when we knew we were close and have it go "it's 100m over there, here, let me show you".
So.. the tarn:
Really nice spot.. and actually warm enough to have a rinse in. Not quite deep enough to have a swim in (which was probably closely related to why it was warm enough ;)
Nice sunset too..
Walk out the next day was pretty uneventful, much quicker than on the way in… and my wasp? sting (I got stung at the very start of the tramp) was beginning to go down, which was nice.
More nice views!
So yes, all in all an excellent tramp, great to be off the beaten bath a little bit.
Oh, a link to the Topomap .. it really was quite a small tarn!