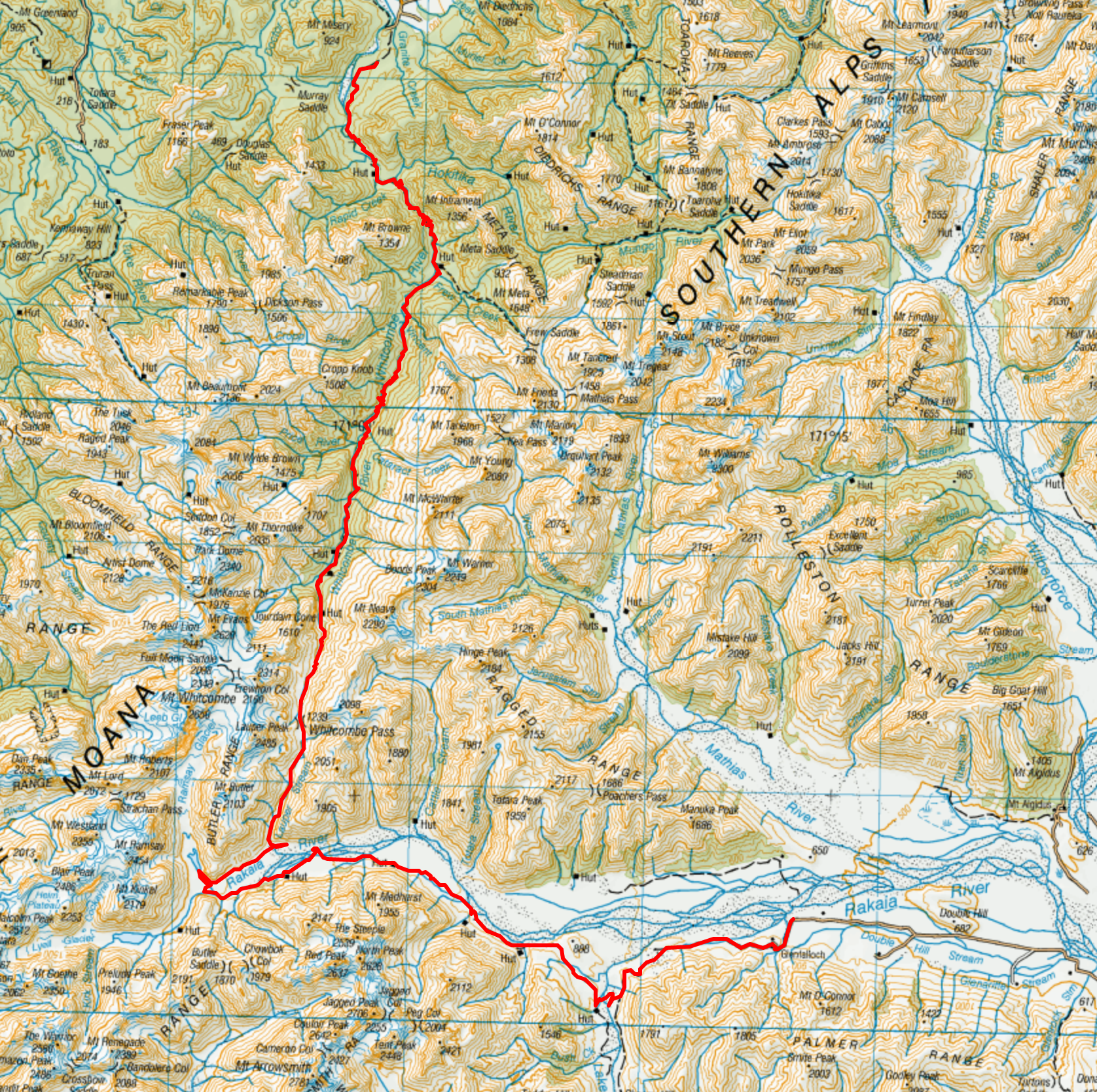 The Whitcombe pass. I admit I hadn't even heard of it before signing up for the trip. I did absolutely zero preparation, reading, anything. This was a stupid mistake and nothing to be remotely proud of! The trip was organised by some of the group I went on outward bound with. I figured I'd done heaps of tramping and that I'd be well up for any tramp that the group could do. Honestly, it was a pretty demanding hike, especially if you've done zero training in about 2 years. This is not a trip to do if it's your first time tramping. We had an extremely experienced trip leader who had done the route about 10 times already!. Weather did have a big impact on our trip and most days were 12+ hour days – it's definitely not a trip to be taken lightly.
It's funny, the calculus of trips & adventures & risk appetite has changed completely for me since our daughter has arrived. I don't care at all if the weather turns bad and a trip has to be abandoned. I'd far rather be sure that I'll get home safely, than take a gamble and try to complete a predetermined route. I'm still somewhat conflicted about this trip, and this picture will show why (we started walking at 1pm on 5th Feb)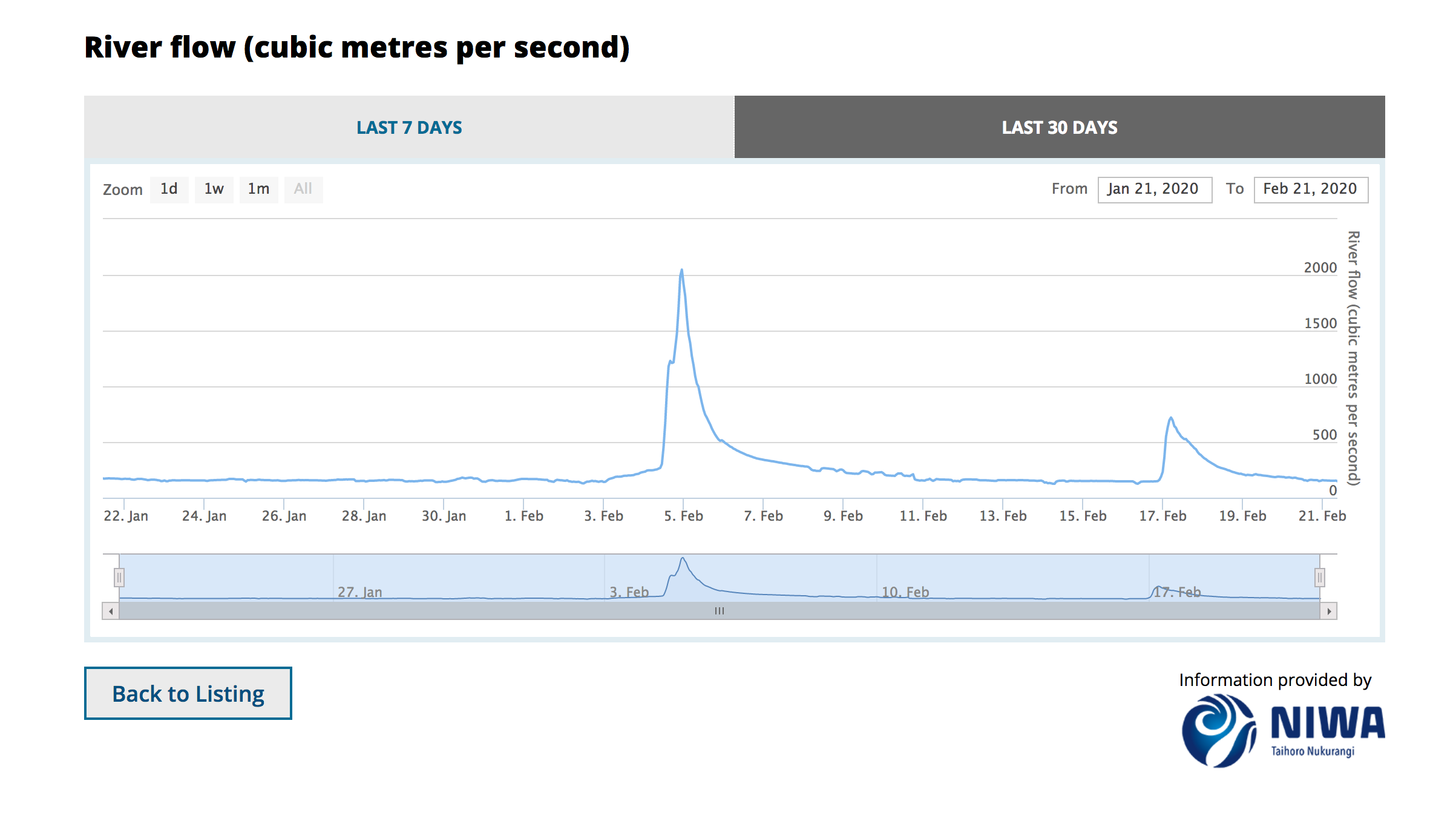 We headed in on the trip about 1pm on the 5th Feb – roughly 13 hours after peak flow. Now, the river was nowhere near 2000 cumecs (cubic meters per second of water!!!) where we were attempting to cross it, but, the rivers were definitely up. I'm a confident tramper, I'm not a particularly confident swimmer, and I've heard enough stories of people dying in rivers that I was pretty nervous. It's fair to say that I was the only one who was actually nervous of the river levels and where we had to do the crossings, so, it probably means I was overreacting, but yeah, I was super nervous for a lot of the crossings (even with 8 of us linked up and everyone having river crossing technique).
Anyway, on with the trip.. If you want to see a map, you can click through to topomap. Please note, the route we did was harder than you'd need to if the weather was decent. We had to do a lot of extra km's and diversions because of the water levels.
Day 1
Didn't start off that nicely. You have to cross a farmers land at the start and the land has been sold to foreigners. Unfortunately they are disputing the easement that runs over the property to allow trampers to pass. I meant to put in a complaint, but haven't yet.
We were just about to drive through the gate when we were aggressively overtaken by the owner who then blocked the road. She did not want to let us through at all. Interestingly, our leader had actually called ahead to get permission. He'd been told he would be called back if there was an issue & he hadn't been called back.. Anyway, she did relent and let us pass (walking only, no drop off, so an extra 4km along gravel road). Not the nicest start to a trip. It's a damn shame that the backcountry is being sold off and locked up like this.
We had to make some detours as we couldn't sidle up along the side of the Rakaia. The first decent river crossing there were 8 of us linked up and it was feeling very very pushy. We had aimed to get to Reischek Hut, unfortunately because of our delayed start and slow progress we only made it to Washbourne Hut which is a "historic" hut (meaning very basic – but at least watertight). We were extremely happy to get there – especially after battling through matagouri (brambles) for a few km as we couldn't quite hit the old four wheel drive track at the start because of the rivers.


Day 2
Day 2 was a decent (hard!) days work. If the rivers had been low we'd have crossed the Rakaia close to the Whitcombe valley and headed up it. Unfortunately when we got there the river was still really high.
I think if it was our leader on his own (or with his tramping buddies) they'd have been happy to wade out and swim the last part. It probably would have been fine as the run outs weren't that bad. I was pretty nervous though and maybe partly for me he decided to head further upstream to find an easier crossing.  We actually thought we'd managed to get across, only to have to turn back (see above picture) at the last braid of the river. Very disappointing.
So, we spent until lunchtime heading further and further upstream, looking for places to cross. It was a decent scramble along the side of the river.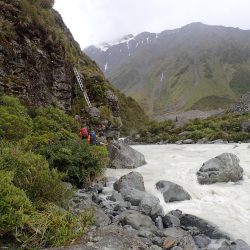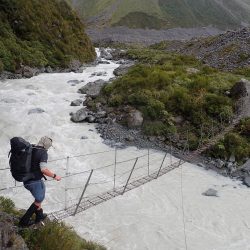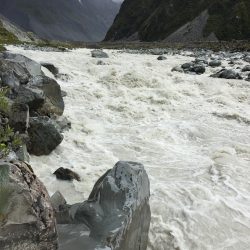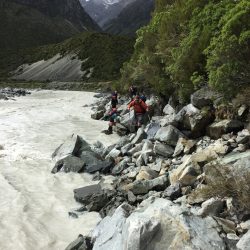 There's a swing bridge at the top of the Rakaia in case you can't cross below, and it was there that we crossed and had a break for lunch. While we had lunch our leader headed up to check out the Ramsay river (which comes out from the Ramsay glacier), it was also looking too hard to cross! However, he walked up to the glacial lake and reckoned it looked wadeable.. So, after lunch & feeling fortified we headed up and waded out. It was cold, but not awful. It was maybe 20-30 meters to wade and not flowing fast. I was off my feet at one point, and I think we almost turned back. Fortunately for us there were 8 of us, so, one end of the group could still get their feet down, so, we shimmied down towards them. Then, when they started going off their feet, we shimmied back again, and soon enough we were across.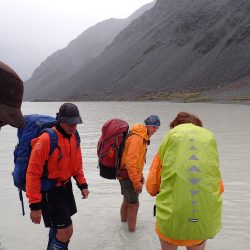 Once across, I felt like a huge weight had been lifted. I really didn't want to get swept off down the Ramsay. By the time we'd crossed though it was 2pm ish, and too late to make it to the hut we wanted to get to (Neave hut). In the event we camped and bivvied at the Lauper Biv. Nice little 2 person biv.
Day 3
This was a "short"ish day for us, we only had to make it to the Neave hut as it was too far to get to the hut after it. We knew we'd have to make time up because we were getting collected at lunchtime on the Sunday. It was a nice day, we didn't have any major river crossings. I'm not entirely sure what the "real" route is, but, once we'd crossed the pass and were heading down to Neave, we held the true-right of the river. This was because as it was still so wet the river would have been too high to have passed lower down near the hut. I suspect if the river was normal you'd have just taken whichever side was easier at the time.
I was very thankful for Mike (the one looking fit and happy above!). He's a relentless bundle of enthusiasm and energy. He's done multiple iron men, was doing a 4km? 5km? open water swim the weekend following this tramp… he's just very fit. He kept at the back of the group and just encouraged people along when they needed it. I certainly needed it at times ;)
Day 4
This was the big day. We decided we'd string two huts together and go straight from the Neave to Frew hut. That was a long day. It was pretty OK to Price hut, but, after that it was just really hard work because there were a lot of slips (landslides) along the route. Every time you got to a slip you'd have to find a way to cross the slip, and then you'd have to try and find the track again on the far side. This isn't as easy as it sounds as while it is a marked track, it's not obvious especially when the slips were so new. We probably lost 3 or 4 hours due to slips. I think we were up at 5am and arrived at 10:30pm and we were pretty much walking the entire time. Hard yards.
We were all extremely happy to reach the hut that night. The last few kms were in the dark, but, there were 8 of us and enough light to go around, plus there was a decent track for the last run through to Frew hut. Dinner never tasted so good. I'd brought the hip flask with me (I never normally do), and I did have a celebratory sip or two, then crashed!
Day 5
This was a lovely walk out to the end. It's a beautiful river the Whitcombe, huge lumps of what look like greenstone infused boulders all over the place. Stunning.
There was also a really fun cableway at the end which we had to cross. Felt exactly like something out of that wonderful game Myst. If Myst ever came out in VR I think I'd have to go buy the gear straight away!
When we got to the end, our driver had laid out cold drinks – like at the end of an adventure race. I opted for a ginger beer – never tasted so delicious.
Some personal reflections on the trip
Firstly, I'm extremely thankful to have wonderful friends who organise a trip like this, friends to drive across the country to pick us up, Maaike to look after Anna for 5 days and let me stretch the legs. Thank you all very much.
For me, the rivers were too high, and part of me (a big part) still reckons we got away somewhat lucky running the trip. I'd like to note again, everyone else was happy with it, I just thought it was too big. There are products now like the garmin inreach which can allow two way communication over the satellite networks. If we'd had one of those we could have let people know we were running late and we could have taken our time with an extra day. I think the route choice was quite "sticky", in that people had come up from Dunedin, flown in from Wellington, and the plan was to do this route at this time. We could have discussed other routes to do, talked about the conditions, maybe done something with fewer river crossings.
I hesitated to even say anything here, as I truly am thankful to have had the opportunity and it feels like I was the one with a different risk appetite and simply judged things differently. The calculus, at least for me, does change with having a kid. I really want to make damn sure I come home at the end of a trip.